DRIVER THROWS CIGARETTE BUTT OUT OF WINDOW, SETS HIS OWN VEHICLE ON FIRE
Home >
News Shots >
World
By

Behindwoods News Bureau

|

Nov 30, 2018 04:54 PM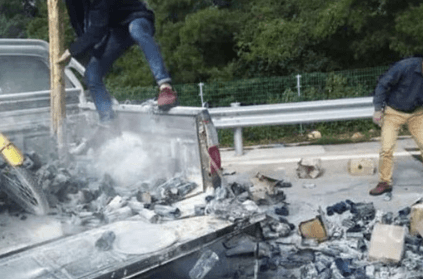 A man set fire to his own pickup truck when he threw a cigarette butt out of the window. The incident took place in southeast China when a careless truck driver threw a cigarette butt out of the window while driving.

According to local media reports, flames and heavy smoke engulfed the back of the vehicle as it came off a motorway in Zhangzhou, Fujian province, and stopped near a toll station. Before any serious damage, bystanders rushed to the spot and put out the blaze with the help of fire extinguishers.

The driver, identified by his surname Wu, admitted that he was smoking a cigarette and threw it out, adding that the wind probably blew it to the back of the truck.

Some plastic cages and two bicycles were damaged in the fire. Fortunately no person was injured.
next