PHOTO OF MILITANT'S BODY BEING DRAGGED BY SECURITY FORCES SPARKS OUTRAGE
Home >
News Shots >
India
By

Behindwoods News Bureau

|

Sep 15, 2018 11:53 AM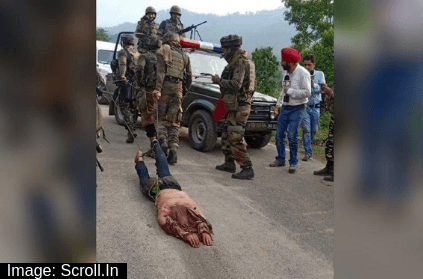 Time and again, reports have surfaced, highlighting some insensitive acts by the security forces in Jammu and Kashmir. On September 13, a photograph of security personnel dragging the body of a militant using ropes, went viral.

The picture was reportedly taken by a journalist who was present at that spot. According to a report in Scroll.In, the security personnel tied ropes to the dead militant's legs and dragged him out of a field. The body was deposited in an ambulance that was 10-15 metres away from the spot where the militant had been killed.

While the Army has given an explanation to this, the picture has sparked outrage in the entire region, with activists and social media users condemning the act. Some even claimed that the action was a deliberate attempt to inflame passions in the region.

In another picture, Rakesh Sharma, the vice president of the Hindutva outfit Bajrang Dal in Jammu, was seen posing close to a dead body at the site of the gunfight.
Users on social media seem to be divided over the issue. Some claim that dragging someone's dead body is against human rights and dignity. However, others feel that when militants mutilate the body of soldiers, this is what they deserve.
Another image from yesterday gunfight in #Jammu. The man clicking selfie with a militant's body, which was dragged, is reportedly Rakesh Sharma, Vice President of Bajrang Dal. pic.twitter.com/qaLWiZfIeU

— Fahad Shah (@pzfahad) September 15, 2018
next