WATCH | RARE 'FISH RAIN' WITNESSED IN ANDHRA PRADESH AS CYCLONE PHETHAI HITS STATE
Home >
News Shots >
India
By

Behindwoods News Bureau

|

Dec 19, 2018 08:30 AM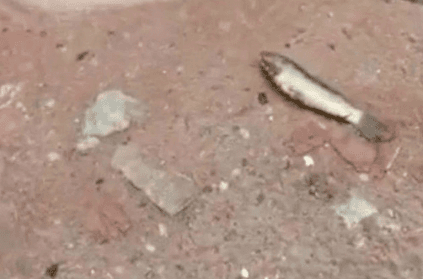 While most parts of East Godavari West Godavari, Visakhapatnam, Nellore, Krishna, Guntur, Vizianagaram and Srikakulam are receiving incessant rains triggered by the Cyclone Phethai, residents of Amalapuram were in for a surprise.

Residents in the area were surprised by seeing fish wiggling in puddles in front of their houses. Videos posted by some locals on social media which has since gone viral showed live fish lying all over the place and even some residents picking them up.

According to local media reports, the unusual incident was spotted near the municipal school in Amalapuram.

Sights like the 'fish rain' is not so rare. There have been many similar incidents across the world where live fish, frog and crabs have all fallen from the skies during the rains. Such incidents happen when strong winds of cyclonic storms picks up these creatures from the water bodies including seas and drop on the land where it rains.
#CyclonePhethai: Rare meteorological phenomenon 'fish rain' witnessed at Amalapuram in East Godavari district. (Video credit: Samayam Telugu) pic.twitter.com/fxVqjvIZ2i

— TOI Andhra Pradesh (@TOI_Andhra) December 17, 2018
While people are generally baffled by the occurrence, scientists explain it's normal. Cyclone Phethai which made landfall on Monday between Kakinada and Yanam packing windspeed that gusted upto 85-90 kmph has caused widespread destruction in the state.
Tags :
#RAIN #FISH RAIN #ANDHRA PRADESH #VIRAL #BUZZ #CYCLONE PHETHAI
next