In an exclusive interview with us, actor Vijay Sethupathi shared about his career, life experiences as well as the recent controversial incident during the audio launch of Jiiva's upcoming film Kee.

Answering as to what he felt about the way the incident was hyped up while being reported by the media, he said,"It beats me. A channel went on to report that I warned STR indirectly. I do not know how that happened - I said nothing of the sort.

My wife showed it (the news) to me, and I laughed. But I understand why, and feel sorry for them; they have to do something like this to sell their stories."

The star explained the actual reality of the situation. "I was very busy with my shoot schedule and was strapped for time, something that I had explained to the director and cinematographer previously. I was also not well.

I had to leave for shoot immediately after the audio launch. The elders who spoke before me had lots to say - but I had work to attend to. An entire unit was waiting for me. And in the end, about four hours of shoot time was lost due to this."

Watch the full interview here: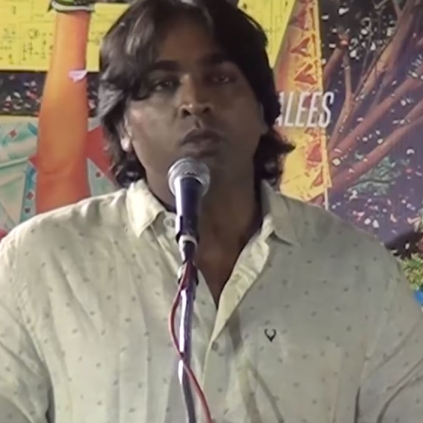 The audio launch event of Jiiva's Kee happened in Chennai today. The function grabbed a lot of attention as issues regarding Producer Council were discussed on stage by some of the celebrities. Vijay Sethupathi who spoke a little later had no other option but to address the Producer Council issue. In fact, he tried to leave the stage when there was a quarrel between two producers during the event but eventually, he was requested not leave and when he was given a chance to speak, this is what he had to say:

"For a moment, I was wondering if I had come to attend an audio launch function or to witness a producer council meeting? Every organisation will have issues, I am not denying that but I feel we need to sort out all our problems within four walls and not let the public know.

It is disappointing and sad to see things in Producer Council turn out so ugly. These issues have painted a bad impression on us among the public. Each and everyone who is part of a film honestly works hard to make it a box office success. This industry respects only successful artists. No matter how big a star you are, if you give 4 flops in a row, you are out of the industry. So let us respect each other especially the producers who invest money and do our work with utmost faith."
Vijay Sethupathi spills the truth on Kee audio launch controversy walk out
People looking for online information on Jiiva, Kee, Str, Vijay Sethupathi will find this news story useful.