Producer PL Thenappan's speech against Simbu at Kee audio launch event.

"This is a star-studded event, we are all here only for one man, Michael Rayappan. I have a question for Producer Council President Vishal, why has Michael Rayappan's complaint against Simbu not taken seriously? Why has no action been taken against Simbu yet? I feel sad because I know what pain Michael Rayappan must be going through.

Even I faced problems with Simbu while producing Vallavan. Only I know how hard it is to work with him. I have experienced so many issues when I let him direct a film for me but I did not raise any complaint against him. When the producer has raised a complaint and is worried about the loss he incurred, Simbu is casually taking a selfie and posting it on social media. What kind of producers are we to sit and see this nonsense and this proves there is no unity in the producer's council."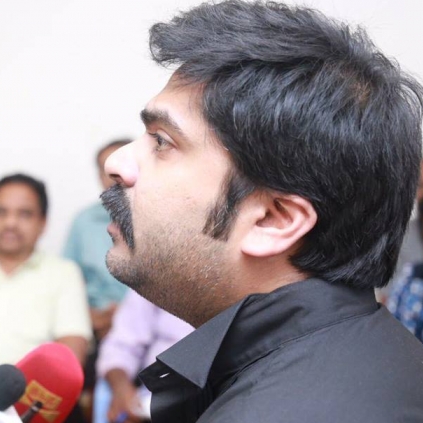 Simbu who is an active supporter of Jallikattu had posted a video on facebook following the police attack at Marina. He has shared his views on the protest, police invasion to dissolve it and also what could be done for the betterment of the people.
Simbu said, "The ordinance is itself a victory for us and the protest will happen again but looking at the current situation, it is better to stay calm and patient and rejoice in peace. The protest was carried out with no leader and completely by the people. It is upto them to decide what is right for them as it is solely their movement, But this is just a humble request from me to the protesters out there to stay calm in this situation. We have got partial victory and the government will take some time now to get us our final victory word. But for now, the violence that seems to setting in has to be stopped and people have to act smart. Also, this suggestion is not out of fear but out of care as people's safety is of utmost importance. After this, if problems arise again, we will definitely protest and get our rights."
He also said that, we do not need to protest during such a situation and if at all required, we will use a non violent protest again later on. Our fight was only for Jallikattu and we will never indulge in violent methods for it. He does not insist on people to listen to his decision but requests them to understand the sensitivity of the situation and act smart for our own welfare. He also promised to stand behind the people's decisions and that his extended support would always be there for them.
Apart from this, he tweeted, "You can voice your opinion, & even I will have an opinion, but I will always stand by the people's mandate & peace should prevail. A humble req to Hon'ble @narendramodi Ayya to Imd give a statement of confidence & guarantee to 2 stop dis situation in TN. We trust in u."