As reported earlier, Simbu met the Chennai city Police Commissioner today to know why actor Mansoor Ali Khan is still kept in jail. Speaking to the media today, Simbu said:

"Like you all know, I am acting in Mani Ratnam's Chekka Chivantha Vaanam. Mansoor Ali Khan anna is also acting along with me in the film and recently while shooting, I noticed that Mansoor anna was under some pain and when I asked him what was the matter and he replied saying he recently had stomach operation. So when I saw him protesting for the Cauvery issue, I wanted to know how he is doing now, so I called his son and he let me know that Mansoor anna is in jail for the past 7 days. He cried to me saying he doesn't even know if his father is alive or not, I felt so bad and wanted to do something. So I have come here to know the reason why Mansoor Ali Khan has been jailed while all the other protestors have been released."

Watch the full video here: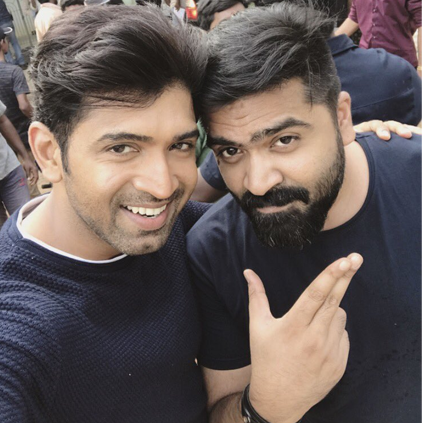 Recently a photo of Simbu feeding Vijay Sehtupathi was doing rounds online. Today, actor Arun Vijay has posted a picture of himself with actor Simbu, from the shooting spot of Chekka Chivantha Vaanam.

The picture had a heartwarming caption that said: "Nothing has changed in this young man i have known all these years.. always a champ. Kind at heart and a power performer. Keep the happy spirit in u alive always Simbu.There is no looking back from now on in all your future endeavours! Keep riding high brother.. #CCV #STR"

*Tweets are not spell-checked.