We had reported that actor Simbu had requested the people of Karnataka to offer a bottle of water to their fellow Tamilians. He had also asked the people to shoot a video of this and put it up in order to support humanity. On April 11th, between 3 pm and 6 pm, a lot of such pictures and videos had surfaced on social media. Regarding this, Simbu when contacted by Karnataka media, went on and said:

"As long as people are united we need not be bothered about corrupt politicians. I am so happy that a lot of people decided to give a glass or bottle of water and show their support. We are all humans and that is the most important thing. Neither people of Karnataka people nor Tamil Nadu people would think bad for each other. Only certain sections want to spread hatred and this would lead to miscommunication. I am not interested in politics and I want to break these politics.

God is always there. He will make sure corruption does not continue. In both Tamil Nadu as well as in Karnataka, there will be a small section of people who do not like us doing any good for the states. Those people have to be ignored as they will only try to keep stopping us. As for Rajini sir and Kamal sir, obviously their intentions are right. Everybody is hoping for something good to happen only. The main thing is that we must move and take some sort of action to achieve what we need. That is what is required and a constructive discussion will always help us to arrive at the right feasible solution. Let us unite for humanity."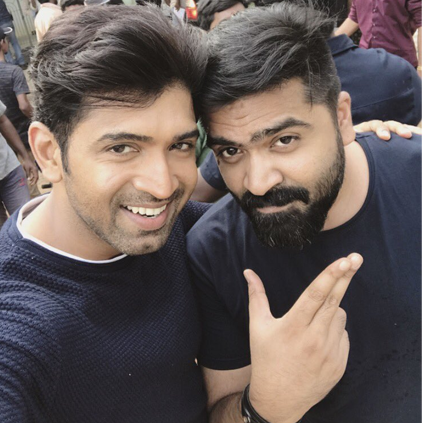 Recently a photo of Simbu feeding Vijay Sehtupathi was doing rounds online. Today, actor Arun Vijay has posted a picture of himself with actor Simbu, from the shooting spot of Chekka Chivantha Vaanam.

The picture had a heartwarming caption that said: "Nothing has changed in this young man i have known all these years.. always a champ. Kind at heart and a power performer. Keep the happy spirit in u alive always Simbu.There is no looking back from now on in all your future endeavours! Keep riding high brother.. #CCV #STR"

*Tweets are not spell-checked.