Actor Simbu thanks people of Karnataka for supporting his movement. Check out his latest statement:

"I am really happy to see so many people from both Tamil Nadu and Kannada respect my words and started to share their love for one another. Firstly, I need to thank the people of Karnataka for the love and response you have given me. Over the years, we have branded the people of Karnataka as a villain to the Tamil contingent. My initiative was to change that image of Karnataka people and I am glad to see many people coming in support of my idea to break that false image.

Secondly, I need to thank my fellow Tamil people who understood and supported my idea that the people of Karnataka are not bad and it is just the political system that has corrupted our mind. This is not my victory but the victory of people. Only very few media companies had carried this peace movement today whereas most of them tried to hide it by covering other news stories. I thank even those media firms because they have now made people realize that all they want is to let people fight and not unite for their personal gain. This is our victory, we will show everyone what love can do. We will spread love, we will unite for humanity and we will show our power, let them wait and watch. Love you all, God bless."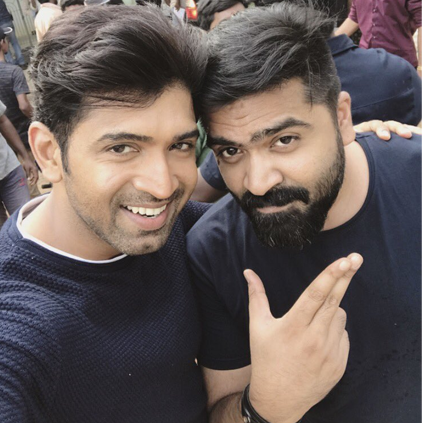 Recently a photo of Simbu feeding Vijay Sehtupathi was doing rounds online. Today, actor Arun Vijay has posted a picture of himself with actor Simbu, from the shooting spot of Chekka Chivantha Vaanam.

The picture had a heartwarming caption that said: "Nothing has changed in this young man i have known all these years.. always a champ. Kind at heart and a power performer. Keep the happy spirit in u alive always Simbu.There is no looking back from now on in all your future endeavours! Keep riding high brother.. #CCV #STR"

*Tweets are not spell-checked.