Recently, we have been spotting many wall posters and big campaigns suggesting a major announcement from RJ Balaji. Many reports suggest that it could be his political entry, while some others say that he is going to announce a new film in which he plays the lead.

Fresh news has come in that his announcement is going to be made tomorrow on the occasion of Chennai Super Kings' next game. He will be a part of the pre-match discussion on Star Sports channel. He has officially announced that he will be revealing his next plan of action at 7 pm during the show.

We are still unsure if this is a political plunge or an announcement for a movie. But, in a recent conversation with the popular politician Nanjil Sampath, he has revealed that he will be acting in a movie with RJ Balaji. Let us wait and see until tomorrow!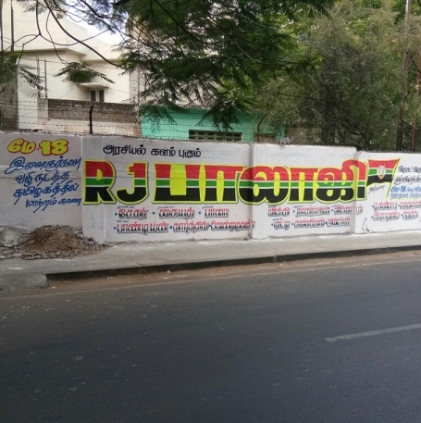 Just a few minutes back, Nanjil Sampath had put up a video saying that he will be joining RJ Balaji on his new journey. While many of them speculated it to be a start of his political journey, we have learnt that it is going to be RJ Balaji's new film.

When Behindwoods contacted Nanjil Sampath, he clarified that the video announcement is for a film, that he is going to act in, alongside RJ Balaji. "That video was for a film, that I am going to act. I do not know about other actors who are acting in the film.", said Nanjil.

So, it is now more or less clarified that all the political ads are for a film announcement. Get ready to witness RJ Balaji as the main lead, with Nanjil Sampath playing a pivotal role.