BCCI had announced earlier in the day that no more IPL matches will be held this year in Chennai in order to respect the sentiments of Tamil people who are fighting against Cauvery and Sterlite issues.

It must be noted that a wild protest took place yesterday in front of Chepauk Cricket Stadium ahead of CSK's match against KKR. Few violent behaviours were on display by some of the protestors and actors like Rajinikanth have condemned such unruly acts.

RJ Balaji has now shared his thoughts on this issue, "Now IPL is shifted,ppl who wanted national attentn,got tat right?Ipo Cauvery Management Board vandhurum la.Only thing thy managed to do is to divert attention frm cauvery to cricket to violence.No sensible Tamizhan wil supprt thse unruly manipulative selfish methods.

Now all those who protested violently against a sport and managed to shift the venue and consider that as success, better make sure that you get the cauvery management board set up too. Mudiyuma. ?"

*Tweets are not spell-checked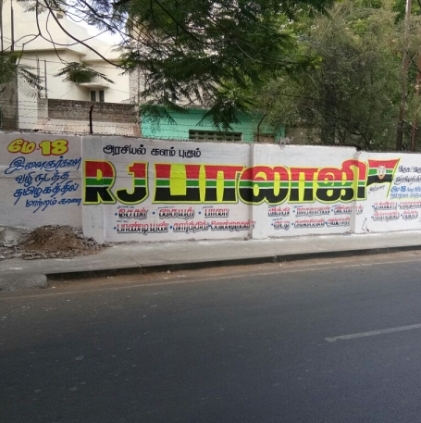 Just a few minutes back, Nanjil Sampath had put up a video saying that he will be joining RJ Balaji on his new journey. While many of them speculated it to be a start of his political journey, we have learnt that it is going to be RJ Balaji's new film.

When Behindwoods contacted Nanjil Sampath, he clarified that the video announcement is for a film, that he is going to act in, alongside RJ Balaji. "That video was for a film, that I am going to act. I do not know about other actors who are acting in the film.", said Nanjil.

So, it is now more or less clarified that all the political ads are for a film announcement. Get ready to witness RJ Balaji as the main lead, with Nanjil Sampath playing a pivotal role.