RJ Balaji, has been a part of this season's IPL, as a Tamil commentator for the channel that is broadcasting the Premier League. However, due to the ongoing protests against the match, RJ Balaji has announced that he will not be a part of today's match.

RJ Balaji, in his video statement, said, "The ongoing Cauvery protests is a battle, and we are fighting our rights. I have decided, not to do my job, commentary, for this particular match between Chennai Super Kings and Kolkata Knight Riders. When I informed this to that particular channel's management, they were kind enough to understand my culture and sentiments. A big thanks to them for that.

These protestors say that they are protesting in a very wide manner like this, so that it can get a National level recognition. I am not sure if that is the right way or the right motive, behind the protest. Doesn't the Central Government already know about the issue?

Until the Cauvery Management Board is formed, these politicians shouldn't contest in any elections. Will it be possible for them? We, as a public has voted for a particular party, who have formed the Government. We should ask them about the issue, and not Dhoni."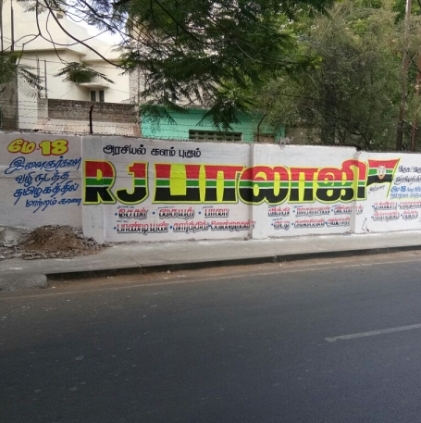 Just a few minutes back, Nanjil Sampath had put up a video saying that he will be joining RJ Balaji on his new journey. While many of them speculated it to be a start of his political journey, we have learnt that it is going to be RJ Balaji's new film.

When Behindwoods contacted Nanjil Sampath, he clarified that the video announcement is for a film, that he is going to act in, alongside RJ Balaji. "That video was for a film, that I am going to act. I do not know about other actors who are acting in the film.", said Nanjil.

So, it is now more or less clarified that all the political ads are for a film announcement. Get ready to witness RJ Balaji as the main lead, with Nanjil Sampath playing a pivotal role.