The sensational news happening at this minute is about the launch of Kamal Haasan's political party, Makkal Neethi Maiam. Here is a compilation of wishes, made by Kollywood celebrities, who've wished Kamal Haasan on his political entry.

Vishal - My dear inspiration for standing up for the right and do the right thing.I wish u only the best sir.The path is long and ruf but wat the hell.U hav seen it all.This is a déjà vu for u.Always der as a foot soldier on behalf of your better half (the society).God bless @ikamalhaasan

Karthi - .@ikamalhaasan முற்போக்குச் சிந்தனையுடன் தமிழ் சினிமாவை முன்னெடுத்துச் சென்று பல சாதனைகள் படைத்தவர் நீங்கள். அந்த சாதனை அரசியலிலும் தொடரட்டும்.

DD Dhivyadharshini - Be the change you want to see!! Manamaarnda Vazhthukal to @ikamalhaasan sir for all the change he is gona bring to us!!

Sibi Sathyaraj - Here's a party with a leader who I feel will bring the much needed change to the system!All the best @ikamalhaasan sir! #MakkalNeedhiMaiam #NaalaiNamadhe

Director Badri Venkatesh - #MakkalNeedhiMaiam Aandavar Nammavar Aalavandar @ikamalhaasan Lead us to light.

Natty - மக்கள் நீதி மய்யம்.. ஒளிர்ந்து வியாபிக்க எல்லாம் வல்ல இறைவனை பிரார்த்திக்கறேன்.

Sripriya - மாற்றம் வேண்டும் என்று முழங்கினால் மட்டும் ஆகாது... மாற்றத்தை உருவாக்க உறுதி கூறும் தலைவனின் அணியில் சேர மதுரையில் நான்...

Balasaravanan - யாருக்கும் அடிமையில்ல இவன் யாருக்கும் அரசனில்லை...விதை ஒன்று முளைக்கயில் வெளிப்படும் ரூபம் "விஸ்வருபம்" தடைகளை வென்று சரித்திரம் படைக்க வந்திருக்கும் #நம்மவர் திரு கமல்ஹாசன் அவர்களது #மக்கள்நீதிமய்யம் வெற்றி பெற வாழ்த்துக்கள் SALUTE U SIR #MakkalNeedhiMaiam #மக்கள்_நீதி_மய்யம்

Director Shanmugam Muthusamy - பழையது ஒழித்து புதிய பாதை அமையுங்கள் ...!!மக்கள் நம்பிக்கை மற்றுமொருமுறை பொய்த்து போகாமல் இருக்க...!!
வாழ்க வளர்க @ikamalhaasan அவர்களே

Singer Krish - #MakkalNeedhiMaiam @ikamalhaasan #EngalUlagaNaayagan Needhi Pirakkum ini...

Kayal Chandran - மக்கள் நீதி மய்யம் - Makkal Needhi Maiyyam #MakkalNeethiMaiyam #ThalaivanIrukiraan

Vasuki Bhaskar - Ur quest for knowledge and detailing has always made u stand apart. Looking forward to know ur political ideology and new avatar. A citizen waiting for change @ikamalhaasan

*tweets are not spell-checked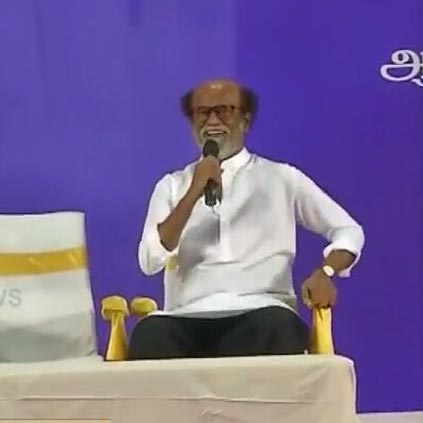 Superstar Rajinikanth met his fans at Raghavendra marriage hall, today February 23. Speaking to his fan, Rajini said that every step in politics should be made with care and he is working on it and he welcomes all-party meet on Cauvery verdict.

Regarding Kamal Haasan's party launch function, Rajini said, "Kamal Haasan's public meeting was good, I watched it. Our paths & styles may be different but our goal is same, that is doing good for people."