Actor-politician Kamal Haasan met with reporters yesterday, February 22, where he answered various questions posed to him.

He started with a note: "All of you played a huge role in making yesterday's event a highlight. An all-party meet has been organized in Chennai, and it is our duty to be there if needed. If we are not invited, we return and continue our work - we have lots to do. Also, the village adoption work will continue from the next month. If the government cooperates, we will happily take it, if not, we will work towards the betterment of the villages."

Question: You have sided neither with nationality nor dravidam in your political ideology.

Answer: That is your opinion. Not mine. We definitely have both schools of thought incorporated - we think that nationality lies in concentrating on villages, and in the same way, we believe that dravidam is nationwide. If you ask me if I'm left or right, the answer lies in our name - Maiam. We are in the centre.

Question: What will be your political policy?

Answer: You keep asking me about the policy. Whatever has been failed to be done till now, will form a part of our policy. Whatever is clear to even the common man as to what needs to be done, will form our policy.

Question: Which are the six states that you mentioned are denoted by the hands in your symbol? What does the star denote? What do the colours mean?

Answer: The star denotes the people, the people of the south. The six hands denote the six southern states - including Puducherry. As for the colours - red denotes hard work, white denotes integrity and black denotes dravidam.

Question: The look of your party seems to look like that of an NGO, why is that so?

Answer: So what? Is that wrong? And if so, what is wrong?

Catch the full interview here: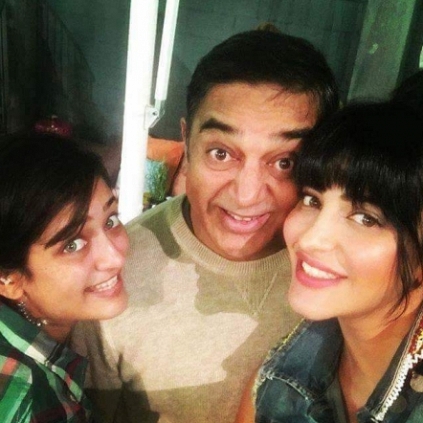 Kamal Haasan had officially launched his political party, Makkal Needhi Maiam, last night, at Madurai. During the event, he was asked if his two daughters, Shruti and Akshara would venture into politics, following his footsteps.

To that question, Kamal responded by saying, "Well, it is up to them to decide. If they want to join politics and do good for the people, they are very much welcome and I am not going to stand against them. It was their independent decision to venture into films, and I lent my support. Likewise, the same applies to politics. But, for now, I have these many children in front of me (addressing the crowd as his own children). I will function along with them towards a clean and a wealthy state."