Tamilrockers has constantly been giving problems to Tamil cinema in the form of piracy, and the Tamil Film Producers Council has been trying their best, to bring down the activities of the site, through their Anti - Piracy team. Behindwoods got in touch with Shiva, an ethical hacker, for an exclusive interview.

During the interview, On being asked if its possible to completely block Tamilrockers, Shiva replied in the negative. He explained, "To be frank, it is not possible to delete or block Tamilrockers completely. The reason why they change their domains like, from .gr to .tw, or something, is because we take down every domain that they host.

We can form teams and work towards deleting every domain, but there is no possibility of completely taking down the website, because, just like how we take down a website, through a technology and coding, the same way, they host a site, with a technology and coding. So, there is an equal amount of technology implemented from their side too, and it isn't possible to completely take down Tamilrockers.

We can temporarily block, but in the long term, there is no access for that. We, along with Producers Council, are trying to cut down their activities, and we block each domain that they host. We can cut down the number of downloads from 100 to 10, and stop 90 other people from downloading. We can also delay the download speed time of a movie. Say, if a movie usually takes some 30 minutes - 1 hour to completely download, we can delay it up to 2 days or 3 days.

It is practically not possible to track down the place from where the website is hosted, because, when a person hosts a website, he will have to register it with a mobile number and an email id, but here, both of those details are wrong and fake. So, we can't trace them that way."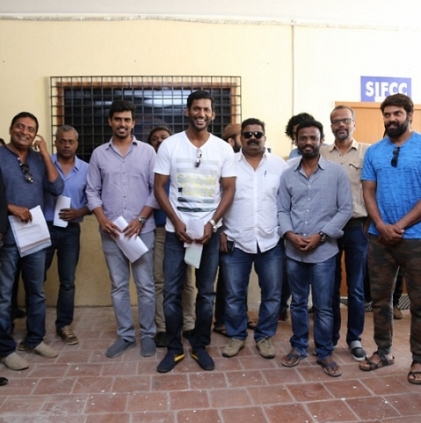 GST implementation will come into practice from this 1st of July (Saturday), and the movie ticket prices will be hiked from that day. About this, the producer's council has decided to make a plea to the Finance Minister Arun Jaitley to revise the tax percentage for the entertainment industry, which is now placed at 28%.

An official press statement has come from Tamil Nadu Film Producers Council, which reads, "Producers of South Indian film industries comprising of Tamil, Telugu, Malayalam, and Kannada are coming together on Friday (30th June) to put forth their plea to the central government. According to GST rollout, theatres that have their ticket prices below 100 rupees are eligible to pay only 18% tax whereas, theatres and multiplexes whose ticket prices are more than 100 rupees are entitled to pay a whopping 28% tax. We would be putting forth our third representation to the Finance Minister Arun Jaitley on Friday. The council had earlier given a couple of representations on how GST should be levied upon the film industries.

We wanted the films in regional languages to be exempted from GST completely when non-regional movies could be taxed at a lower rate. However, foreign language films can be taxed at a higher GST rate than the non-regional films. We also said that the GST would affect the industries which has lakhs of skilled laborers in it. We have also highlighted the problems faced by them and have suggested a solution in the representation. We hope the government hears our plea and intervenes soon," said the Presidents of the respective councils. The letter was also signed by Kamal Haasan.