Arya's Enga Veetu Mappillai is one of the recently attractive shows among the households, in which the Raja Rani star is in search of a suitable bride.

After spending a long time in Jaipur, the whole team has returned back to Tamil Nadu now. Arya will now be visiting every contestant's house this week, and as a start, Arya visited Abarnathi's house in Kumbakonam in yesterday's episode, as part of the traditional 'bride-seeing' ceremony.

The episode was realistically shot, and Arya was welcomed by Abarnathi's mother and uncle to her house. As per the traditions, the ceremony happened, giving a local relatable connect to the viewers. Abarnathi's emotional conversation with Arya, explaining about her family, their backgrounds, were also seen.

After spending time at the house, the whole family visited the temple nearby. Arya revealed that for the first ever time he is visiting a temple for some person, as he has all the while, visited a temple, only for film shoots.

It should be noted that Abarnathi is one of the contestants who has a good fan following among the public.

Check out this video below, where Abarnathi talks about her favourite poses and her intimate photoshoot experiences with Arya.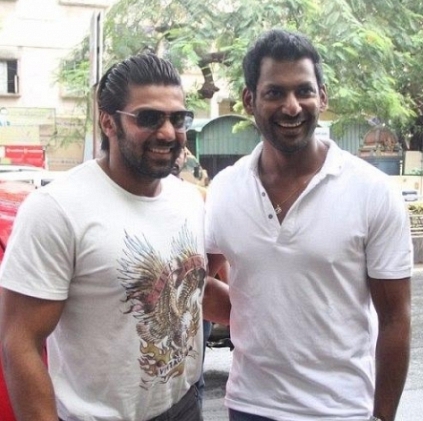 Vishal's Irumbu Thirai is running with packed houses with the help of positive word of mouth and strong content, produced by debutant Mithran and team.

Vishal's best friend and actor Arya is all praise for the film and has congratulated the whole team with his tweet. He said, "Loved #IrumbuThirai 👌👌👏👏 brother @VishalKOfficial rock solid performance 👏👏😘😘@akarjunofficial sir Hats off u r just awesome 😘😘😘@Psmithran writing screenplay making top notch bro😘😘 @george_dop darling too good u r 😘😘 @AntonyLRuben bro always rocking 😘😘"

*post not spell-checked