Actress Amala Paul was in the news recently due to her allegations of sexual harassment by a man in Chennai. She now has released an official statement to explain the happenings in detail:

"On 3lst Jan while I was practising at a Chennai based studio for a dance performance. A man entered the premises and approached me saying there is something important he needs to discuss with me regarding the event. He offered me to attend a special dinner after the event which was to be concluded in Malaysia.

When I cross-questioned him as to what special dinner he is talking about, he shrugged and said, "Don't be a fool, you are not a kid." I got startled, because when I looked around no one was present at that moment aside me and him and this disgusting conversation. When this guy went out of the studio, saying he is waiting for my positive answer, I called my well-wishers and staff to come to my rescue. It took them 30 odd minutes to reach the spot and catch hold of him, while he was patiently and confidently stood outside the studio as if this was his normal day at a business negotiation.

Seeing my team approaching him, he tried to escape the situation by saying, "She can also say 'no' if she doesn't want to, what's the big deal?". When he tried to push my team and ran, they caught hold of him and locked him up in the studio. While this ordeal was going on, I realised that he is a member of an organised sex racket as he had my latest number stored in his phone and had all the information related to me and other actresses performing in the event. When the police arrived at the scene on complaints of nuisance by the locals around the studio, we delivered this guy to the Mamangalam police station in T Nagar. I too rushed to the station to file an FIR.

I thank the police for their swift action on the matter as they have not only found various evidence of the operations of the racket but have also arrested two of the linchpins. Few more arrest warrants are underway for other suspects too. But I still request them to expedite their investigation and make public all the names who are involved in this racket.

Some media houses are spreading rubbish about my manager without even having the slightest of a clue as to what went down the other day and who the real culprits are. There is an investigation going on and I don't wish to be a hurdle in same that's the only reason I am choosing to keep mum on the findings. But that doesn't stop me from filing a defamation suit against such cheap journalism.

This statement is also to bring to attention that during the investigation by the Chennai police, they haven't found any ill-doing on behalf of my manager Mr Pradeep Kumar and any of my team members."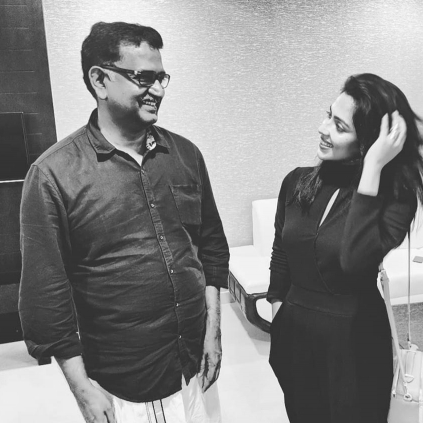 An official announcement has just come in from an exciting project that will have Amala Paul playing the female lead. The actress who is on cloud nine as she bagged the film Aadujeevitham to be directed by National award winning director Blessy, posted about the details of this upcoming Malayalam movie. It has Oscar winner AR Rahman returning to Malayalam after 25 long years and also has another Oscar winner Resul Pookutty doing the sound design.
An excited Amala Paul posted, "I realized how painfully distant it was from my dreams. We shouldn't dream about the unfamiliar and about what only looks good from afar. When such dreams become reality, they are often impossible to come to terms with."
Aadujeevitham, this heart warming novel arrested my heart so deeply, moved and inspired by Najeeb's surrender to the will of Allah (God) and the unshaken faith he put in lord even at the extreme subjugation of body and mind that will lead you to the existence of the third entity -the spirit. 'Spirit', the undying and ever existing component of us all.
"Her tongue would not utter even a single word of despair. Women should be like that. she was my secret pride"
Through Najeeb's eyes, I imagined Sainu like an angel and it will be my utmost joy to enact real Sainu on reel for viewers.
Happy and honored to be part of National Award Winning director #Blessy's #Aadujeevitham as Sainu, a pain every Malayaly has felt through #Benyamin 's classic novel. An amazing screenplay of the classic which is set to be a visual spectacle in 3D, actor Prithviraj Sukumaran who is giving the film 2 years of his life and going through hardships to set in the spirit of Najeeb, the legend A.R. Rahman coming back to Malayalam after 25 years, another Oscar winner Rasool Pookutty as sound designer, also #KUMohanan who is one of the best Cinematographers of India, this gathering of #masters are going to make waves in world cinema. Need all your love, support and blessings.
#grateful".
*Amala's statement not spell-checked