Amala Paul recently filed a complaint against an individual at the T.Nagar Police Station for asking sexual favours. Nadigar Sangam Secretary, Vishal, has now appreciated Amala Paul for her brave move and has thanked the Police for reacting to this issue immediately.

The press statement from Nadigar Sangam states, "Amala Paul had recently told everyone that she faced sexual harassment from an individual. After that, the police officials from Mambalam R1 police station inquired Amala Paul and arrested that person.

Nadigar Sangam thanks the Police for their quick action, and also appreciates Amala Paul for coming out and speak about this. Though many actresses, face these sexual tortures, only very few come out, and I appreciate Amala Paul for that.

Vishal,
General Secretary,
Nadigar Sangam"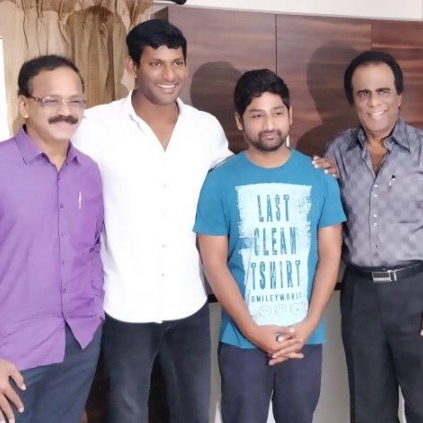 A couple of brisk schedules have been completed and the Navarasa Nayagan Karthik-Gautham Karthik starrer, Mr.Chandramouli is progressing with positivity. The film is directed by Thiru and has Regina Cassandra and Varalaxmi Sarathkumar playing important roles. It is being produced by G Dhananjayan.

As reported earlier, the team has locked their release date to be April 27th. Following this, actor Vishal has met the team at their shooting spot earlier this morning. He took to Twitter to share this and he said, "Jus met @Dhananjayang sir n my fav darlings @dir_thiru @Richardmnathan n #MrChandramouli shoot.damn happy 2 c a producer @ da spot early n da Mrng.such a Gud sign 4 da film lockin da release date n adv marks professionalism.ATB @Gautham_Karthik @varusarath @ReginaCassandra GB."

The interesting part is that Vishal has played the lead in all the films directed by Thiru. He has now visited the sets as well. Does this mean Vishal can be seen in a small cameo? We need to wait to find out! Stay tuned.

**The tweet is not spell-checked