U-19 Indian cricket team has won the 2018 ICC World Cup, this afternoon, after beating Australia in the grand finale. Led by Prithvi Shaw, the team was guided by legendary former Indian batsman Rahul Dravid. On this note, top film celebrities took to their social media forum to congratulate the Indian team on their World cup victory. Here is the compilation of those tweets:

Shah Rukh Khan - Wow. What a proud moment for young India. Well done lil ones…May u keep conquering the world. And keep playing FIFA ...on the side. A great morning.

S.S.Rajamouli - Congratulations India U-19 team for winning the World Cup for the 4th time... FANTASTIC...So elated that both the senior team and U-19 team have the best fast bowling attacks.. #U19CWC

Mahesh Babu - Proud moment for the entire country.. What a feat by the Indian U-19 team👍👍 Congratulations to the young heroes! 👏👏 #U19CWC

Nivin Pauly - Yaaay! We're the World Champions!! Congratulations to our boys! 😍😍#U19CWCFinal #BoysInBlue

Neetu Chandra - Wah Wah, Congratulations guys, we are sooooooo very proud of you. Thanking each one of you for getting the cup, Home. Keep Rocking 😊😁💃💃😘😍#U19WorldCupFinal

Arunraja Kamaraj - The Day i waited in my life to See #RahulDravid in the Squad of lifting The Ultimate pride of cricket which is the WorldCup, He Made TeamIndia The Champions. #WorldChampions Congratulations #U19TeamIndia ❤️❤️❤️ #HeadCoach #Respect #FutureOfIndianCricket

Balasaravanan - WELLDONE BOYSSSS...Well playeddd....GREAT...created a HISTORY #IndiaU19 won d World Cup 4th time...#Dravid always a GREAT WALL for INDIA...#ManjotKalra Hatsoff ....SALUTE U BOYSSS...
Preity Zinta - Congrats to the U19 Boys in Blue for winning the #CWCU19👏👏 Loved the celebration 😀 Rahul Dravid take a bow. #INDvAUS #kalra #undefeated

DoP KK Senthil Kumar - Congratulations #BoysInBlue !!!!! Truly deserving World Champions. Great work by the U-19 team to remain undefeated in the World Cup. A special shoutout to #RahulDravid #ICCU19CWC

Director Kalees - #India won U19 World Cup. 🏆🏆🏆. Wat an moment boys. Proud of u bleed blue. Tnq @Im_Dravid Sir. God bless all.

Director Ranjit Jeyakodi - At last dravid becomes a part worldcup winning team , 😆 #INDvAUS #U19CWCFinal

Lyricist Vivek - Adutha World Cup ungalukullaye velayadikonga da. Cup vaika inga edam illa
#4thWorldCup #IndiaWins #Record

Dance Master Shobi - Congratulations Team India U19 💐💐💐 U19CWC #INDvAUS Finals wellplayed Manjot

Director Jeeva Sankar - Finally a World Cup for Rahul Dravid #U19 CWC

RK Suresh - Congrats Team India U19 -Winning the World Cup @U19ICT
Khushbu - India wins the #Under-19WorldCup...congratulations boys in blue..you make us proud..and my most fav #TheWall #RahulDravid proves what a great coach he is..

Vivek Oberoi - Yayyy! Congrats team India under 19 and the amazing #RahulDravid ! So proud of u! Unbeaten champs through the tournament! 4world titles a record we are all so proud of! Jai hind #BoysinBlue #under19worldcup @BCCI

RJ Balaji - And here we're the proud winners of #U19CWC .! 😍😍😍 Thats what u do as a champion.! Pass on the ladder to the next generation.! Rahul Dravid the Champ .!#ProudIndian #RahulDravid #TeamIndia #WorldCup

Sathish - Wowwwwwwwww we won👏👏👏👌👌👌👍👍 Congrats #TeamIndiaU19

Dhananjayan Govind - Very proud of Under-19 Team for this World Cup. Great teamwork boys. Congratulations to the coach #RahulDravid

Rayane Mithun - What a win!!!!!! Take a bow!!! Congratulations Team India!! Champions #U19WorldCup

*tweets are not spell-checked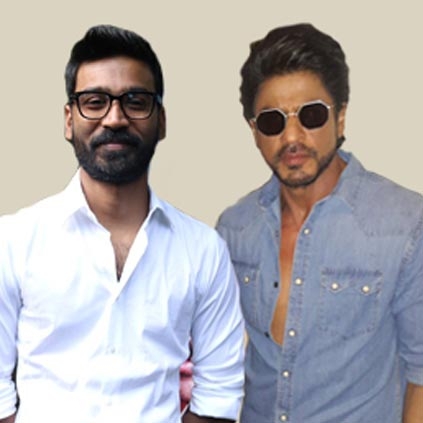 The teaser of Shah Rukh Khan's upcoming Hindi film Zero got released on January 1, 2018, and the promotional video continues to trend ever since with close to 1 crore YouTube views for the video.

Dhanush applauded the teaser via Twitter, "Zero @iamsrk and @aanandlrai absolutely speechless. Wishing you to break all the records. All the best mere bhai. Jai bholenath."

It must be noted that Dhanush and Aanand L Rai have worked together in Raanjhanaa in the past and are expected to join hands once again in the near future.

*Tweet is not spell-checked