WATCH | BIRTHDAY GIRL DUMPS 'CHEATING' BOYFRIEND DURING PARTY; BREAKUP VIDEO GOES VIRAL
Home >
News Shots >
World
By

Behindwoods News Bureau

|

Dec 21, 2018 07:13 AM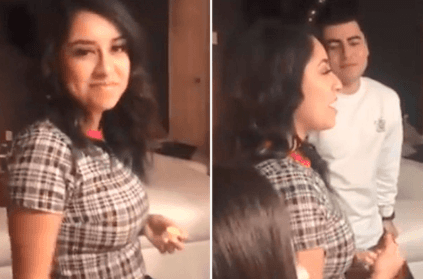 Heartbreaks in relationships are common. But they hurt even more when the cause of the break up is due to a partner cheating on the other.

However, a Texas woman dumped her boyfriend in front of all their friends for allegedly cheating on her during a speech on her birthday. The video of the breakup has gone viral. In the 2 minutes and 20 seconds video, Tiana Perea announced she was breaking up with her boyfriend Santos.

The video shows Tiana's boyfriend standing by her side. After her friends raised a toast for her, Tiana began her speech and thanked everyone for coming to her party.

And then came the big twist!

"I'd like to thank Santos for making me realize I deserve so much better. Because every single person here knows you were trying to f–k with some girl," she spoke in front of everyone. "All of us have seen screenshots … you were sexting her and sending her videos," she continued.

Watch what happened next
Is this the right thing to do when your bf cheats on you? @s_umana pic.twitter.com/o5ubXv8X8R

— Tiana Perea (@tianaperea__) December 13, 2018
"So, in case you didn't figure it out, we're over and you can get the f--- out." As a chorus of 'get out' filled the air, Santos left the house.
Tags :
#TWITTER #BREAKUP #BIRTHDAY #VIRAL #TRENDING
next