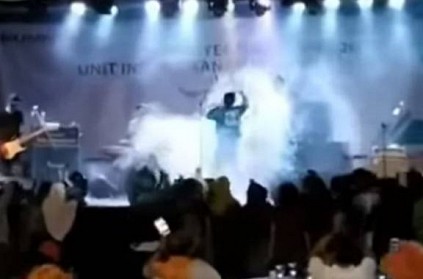 A deadly tsunami hit the beaches of Indonesia on Saturday night. However, minutes before the disaster struck, a band was playing to a crowd - all blissfully unaware of the impending doom.
The band, 'Seventeen' was playing on a stage on Saturday night when the tsunami hit. The chilling incident was recorded by a person who was taking a video. From the video, the band could be seen performing when the tsunami hits. People can be seen screaming as they try to flee away. The video then abruptly stops.
Reportedly, four of the band members including the bassist M. Awal "Bani" Purbani, road manager Oki Wijaya, guitarist Herman Sikumbang and crew member Ujang are dead. The band's drummer and the lead singer's wife are missing.
The lead singer, Riefan Fajarsyah posted a tearful video on Instagram wearing the same shirt he wore while performing. Wiping his tears, he says, "Andi, Herman and Ujang have not been found, please pray for them. Please pray also that my wife will be found soon. Please pray also for Bani and Oki (who passed away)."
According to reports, the tsunami, caused by a volcanic eruption, killed at least 222 people. Over 800 people are injured and 28 missing.
Tags :
#TSUNAMI #INDONESIA
next