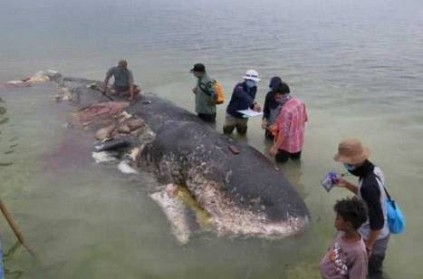 According to reports, a dead sperm whale was found at a national park in Indonesia on Tuesday with 115 plastic cups inside its body.
The 9.5m tall whale, part of the Wakatobi National Park, was found dead in the waters near Kapota Island. Reportedly, over six kilograms of plastic waste was found inside its stomach, including 115 plastic cups. Plastic bottles, sandals, bags, and a sack with more than 1,000 pieces of string were also found inside.
The reason for the whale's death is not yet ascertained but the immense plastic waste found inside the whale could definitely have been a cause. Indonesia was ranked second after China for mismanaged plastic waste. The country even pledged $1 billion a year to reduce marine plastic debris by 70 per cent by 2023.
Tags :
#PLASTIC #INDONESIA
next