A bizarre video of a man celebrating his birthday has gone viral on social media. Instead of celebrating in a normal way, the man could be seen shooting at his cake with a gun.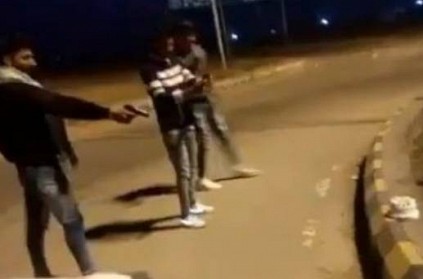 It is not yet ascertained where the incident took place but it is speculated to have happened in Meerut, Uttar Pradesh. However, the video was shared by the police, who stated that it did not take place in Meerut.
The video shows four men celebrating the birthday of one of them. The men can be heard speaking in Hindi. One of the men, presumably the birthday boy, whips out a gun and shoots the cake, which has 'Gujjar' written on it.
The video was shared on social media on Saturday and has garnered thousands of views.
Cutting cake using knife is such a cliched thing. In this video, a youth is seen taking repeated shots at the cake to 'cut' it while others cheer him. The incident is said to have happened in Meerut. pic.twitter.com/DE7yzmOF2V

— Piyush Rai | ‏‎پیوش رائے (@Benarasiyaa) January 12, 2019
next