105-YEAR-OLD WOMAN REVEALS THE SECRET TO HER LONG LIFE AND IT'S NOT WHAT YOU'D EXPECT
Home >
News Shots >
World
By

Behindwoods News Bureau

|

Sep 17, 2018 09:55 AM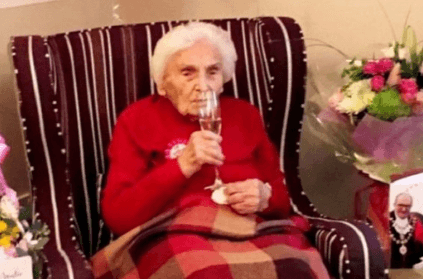 People who have lived for more than the average life expectancy are often after about the secret to a long life.

Brenda Osborne, born in 1913 in Nottingham, could have never thought she'd live for more than a 100 years. She's now 105 and still going strong. Brenda has revealed the secret to her long life.
No it's nothing related to health or food. It's avoiding men!

While most people beyond 90 claim that their secret to a long life is to eat healthy, keep the body fit, having a proper schedule, Brenda believes that avoiding men is the best way to live longer.

Described by her niece as being 'fiercely independent', Brenda has had a 33-year-old long career as a nurse. She has also got an award for taking only a single day off for sick leave during her long tenure.

Brenda, who recently celebrated her 105th birthday stunned visitors when they asked her for tips to a long life. "I would put my good health down to hard work and avoiding men," she said. Brenda has lived through 2 World Wars and even nursed Dunkirk veterans during her tenure.

"I loved celebrating my birthday although I was disappointed the Queen didn't come. I received my letter from her but I thought an appearance was the least she could do," she addeW
What do you think about Brenda's motto? Tell us in the comments below.
next