Actor Vishal condemns politician H Raja for encouraging piracy. Politician H Raja during a recent television debate show revealed that he watched Mersal using a pirated copy. This supposedly did not go well with Vishal who has issued a statement condemning H Raja's speech.

"Dear Mr H.Raja, as a leader and prominent personality, you are advocating Piracy and blatantly agree to it ???

Dear sir, I, as a SINCERE Citizen, True Workaholic and a man who thinks twice to do anything wrong, seriously I wonder how a political leader like you can watch a pirated version of a film which sets a bad example.

Totally Insensitive And Uncalled For...
Vishal, Sincere Fighter Of Piracy"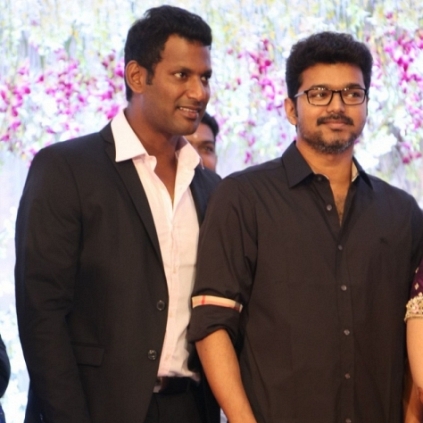 Tamil Film Producers Council President and actor Vishal has officially issued a statement in support of Thalapathy Vijay and Mersal team, in the ongoing controversy over the film.

Vishal's statement reads, "My first appreciations to Vijay, Atlee and producer Murali for talking about important socially relevant issues through Mersal.

I see this entire issue, put up by BJP against the Mersal film, as a threat to the fundamental right, 'Right to Freedom of Speech'. It is against the freedom of speech.

In Hollywood, there are scenes that make fun of their own American President. That is the democracy and that is the freedom of speech. Here, it is impossible to impress everyone. If a political party can make decisions about a film's dialogues, and its content, why is there a censor board?

No one has the right to demand for a re-censor of a film, that has been censored already. Everyone has the right to speak what they feel. Likewise, we people in the cinema industry, also have a social responsibility and we can also speak whatever we feel like.

Vishal,
President, TFPC"