Tamil Film Producers Council President and actor Vishal has officially issued a statement in support of Thalapathy Vijay and Mersal team, in the ongoing controversy over the film.

Vishal's statement reads, "My first appreciations to Vijay, Atlee and producer Murali for talking about important socially relevant issues through Mersal.

I see this entire issue, put up by BJP against the Mersal film, as a threat to the fundamental right, 'Right to Freedom of Speech'. It is against the freedom of speech.

In Hollywood, there are scenes that make fun of their own American President. That is the democracy and that is the freedom of speech. Here, it is impossible to impress everyone. If a political party can make decisions about a film's dialogues, and its content, why is there a censor board?

No one has the right to demand for a re-censor of a film, that has been censored already. Everyone has the right to speak what they feel. Likewise, we people in the cinema industry, also have a social responsibility and we can also speak whatever we feel like.

Vishal,
President, TFPC"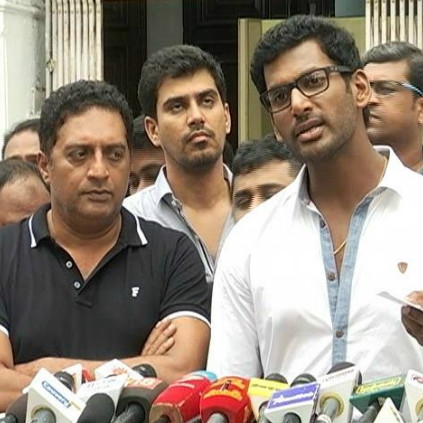 Vishal, Prakash Raj, S.R.Prabhu and the main members from Tamil Film Producers Council met our Tamil Nadu Chief Minister Edappadi Palaniswamy, this afternoon to discuss about the ongoing local entertainment tax issue.

The meeting came to an end, a few minutes back, after which Vishal met the whole press and media. During his speech, Vishal disclosed about the decisions that were made in the meeting.

"The revised rates for theatres will now be
Multiplex - 50 (min) and 150 (max) Eg: Sathyam, Inox, PVR
AC theatres - 40 (min) and 100 (max) Eg: Sangam, Kamala, Udhayam, Devi
Non AC theatres - 30 (min) and 80 (max)

Apart from this, local entertainment tax , GST, and internet charges (if booked through net) would be applicable. The Government has come down to 8% LBET from 10%. They explained the reason why they have to charge entertainment tax, and as it was justifiable, we agreed to it. The tax for other language films (English, Malayalam, Telugu, Hindi, etc) still remains at 20%, and we have asked them to reconsider about bringing it down. But for now, it will be 8% for Tamil films and 20% for other language films.

If any theatre sells ticket rates above these new regularised rates, the public can directly complain to Government authorities or to the TFPC members. We would take action against that particular theatre, and they'd have to face the consequences. With regard to the canteen rates, no theatre will sell sealed products above MRP rates. If a water bottle costs 10Rs, it has to be sold only at 10, and not at 50 or 60.

Parking ticket rates are being worked upon by the Govt officials. There is something called C-form, which will be sent to the theatres by the Government, along with the GO (government order). In that form, parking ticket rates would be mentioned and the theatre owners shouldn't collect more than that rates. We are also working towards reducing internet booking charges, but for now, people might have to pay 20 or 30 Rs. for that depending on each theatre. Once the GO is passed to the theatres, the new ticket rates will come to effect immediately.

All issues have been solved and we thank our Chief Minister for listening to all our requests. We'd also like to thank, actor and MLA Karunaas for acting as a bridge between us and the Government officials. Mersal will surely hit the screens for Diwali, and there will also be one or two more releases alongside. We have regularised these prices for the welfare of both, the industry and the public. If the public is made to buy any ticket or snacks or parking coupon more than the mentioned rates, they can complain to us or to the Government. Necessary action would be taken against them. The public doesn't have to pay higher rates than MRP.", said Vishal.