In an official press note, producer Murali has briefed in detail his thoughts in the last few days amidst the controversy surrounded for his landmark 100th film Mersal.l. It read "We thank Vijay fans all around the world for making this film a grand success. We wholeheartedly thank Thalpathy Vijay, Director Atlee and the whole Mersalteam who worked for the film.
It deeply saddens us when Mersal had issues within few days of release. Mersal is not made with an intention to oppose anybody, especially the government. The film is produced with a social message that every ordinary man in the nation should get free medical treatment.
We have met the BJP leaders in person and also have spoken to few other politicians over the phone to convey that Mersal is not a film to hurt any individual or any party. Members of BJP have also accepted our explanations. In fact, BJP's State President Tamilisai Soundararajan appreciated our positive thought of meeting and clarifying the issue in person. Even after this meeting, if they feel any scene or dialogue in the film misleads people, we are ready to remove that scene or dialogue from the film."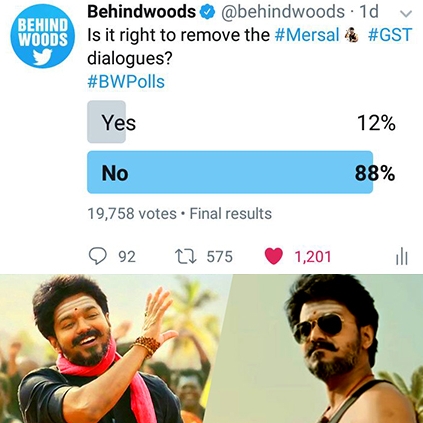 In the last 2 days, one of the most trending stories in India would be easily about the BJP ministers voicing to remove the dialogues on GST and Digital India from the Vijay starrer movie Mersal directed by Atlee. To know more what the public feels, we had run a one day poll on Twitter based on the controversy.
According to the votes by our Twitter followers, a majority of the people doesn't want to remove the dialogues from the film. Out of the 19,758 votes registered in 24 hours, 88% of the people have voted against removing the dialogues from the film, and 12% of the votes were recorded supporting the dialogues removal. Though there are few reports that the controversial dialogues will be muted/removed, there isn't any official announcement from the producers yet. But the good news is, all the talks have made the film very popular across the state, and most theatres are enjoying an excellent occupancy.