Reports about Mersal's record-breaking opening are all over the media. The film has indeed taken the box-office by storm. Looks like Vijay and Atlee have seen a handsome success in Round 2 as well.

Now here we bring to you the 4 day Chennai city collection report. According to Behindwoods box-office wing, Mersal has collected an approximate 5.45 crores from its 1st four days. With today being a Sunday, the turnout for the film is likely to be as strong as the previous days.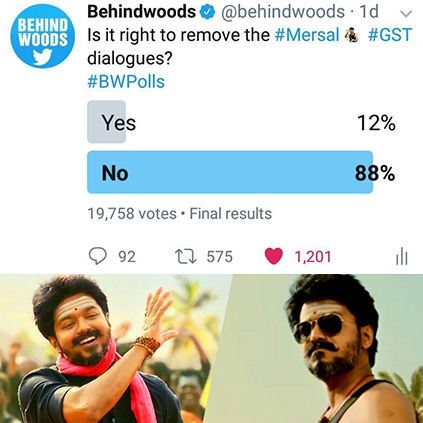 In the last 2 days, one of the most trending stories in India would be easily about the BJP ministers voicing to remove the dialogues on GST and Digital India from the Vijay starrer movie Mersal directed by Atlee. To know more what the public feels, we had run a one day poll on Twitter based on the controversy.
According to the votes by our Twitter followers, a majority of the people doesn't want to remove the dialogues from the film. Out of the 19,758 votes registered in 24 hours, 88% of the people have voted against removing the dialogues from the film, and 12% of the votes were recorded supporting the dialogues removal. Though there are few reports that the controversial dialogues will be muted/removed, there isn't any official announcement from the producers yet. But the good news is, all the talks have made the film very popular across the state, and most theatres are enjoying an excellent occupancy.