According to reports, 9 people were killed and over 20 injured as protests against Sterlite in Tuticorin took a nasty turn. Actor Vishal took to his Twitter space to condemn Police Department's violent action against the protestors.

Vishal's statement - "I strongly condemn the brutal killing of innocent lives during the ongoing sterlite protest in Tuticorin:

My deepest condolences. The protest is done for a social cause not for personal goals. If 50,000 ppl are protesting against Sterlite, it means there is unity among ppl to stop something which is against the welfare of the ppl of Tuticorin.

Dear Prime Minsiter, pls break your silence atleast now. As BJP says, Protest is a form of Democracy, why can't people do the same.

Govt is suppose to be "For The People" & not otherwise 2019 pls be aware !!!

-Vishal"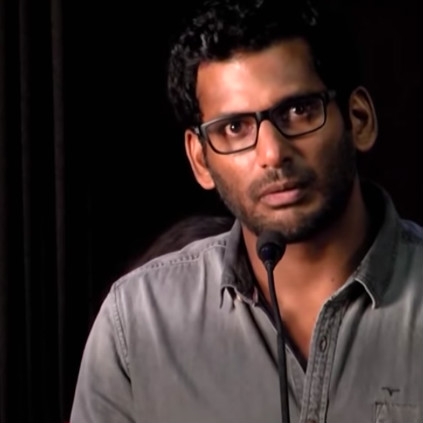 A film titled Nungambakkam is a recreation of one of Chennai's biggest crime incidents. The film is based on the real-life event of Swathi Murder case that took place in 2006. The film is directed by SD. Ramesh Selvan. The film celebrated its audio launch on May 21st where various celebrities presence was seen. General Secretary of Nadigar Sangam, actor Vishal delivered a speech at the launch.
"I earlier came for the launch of Swathi Kolai Valaku and now I'm here for the same film's launch titled Nungambakkam. I don't understand the need to even change the title of the film. I can't seem to understand what they are very afraid about.

Films should be about portraying the reality underlining what happens in our society, but people are too afraid to show what actually happens in life on screens. I do not know if you changed the titled due to censor boards demands or any other association. But, to voice out real characters, real events and real stories on screen, I don't know why artists face so much of restrictions and pressure.

R. K. Selvamani's Kuttrapathirikai still did not release on screens since it portrayed real-life happenings. There is a level of curiosity among the audience to know the facts behind real-life events. When a director takes it up to create awareness about such issues, he will face so much of creative restrictions and pressures but, when the film is successfully released, it will get the appreciation it deserves.

I feel digital platforms are much more liberate and there is excessive freedom of expression. Wide platforms like Netflix, Amazon Prime are more welcoming for such concepts.

My film Irumbu Thirai also faced many restrictions since we addressed the issues of digital media and cybercrime openly. There are always some associations and people who are afraid of such content to be seen by the audience and hence hinder the release of the film.

I thank my brother Atharva for temporarily postponing his film since we wanted small budget films to release this weekend. It will be fair for all the films to get an equal number of screens. He understood the importance and agreed to agree his film in June without further discussions.

I wish in advance for all the films to be successful and gain a positive response from the audience."