On this extremely special day, Vignesh ShivN takes to his Twitter for an important announcement as well as a sweet message! Today, Lady Superstar Nayanthara celebrates her birthday and wishes have been pouring in for the gorgeous woman. Of all those wishes, Vignesh ShivN seems to have been the special one, as he took to Twitter to share some lovely selfies of the two of them and wish her in his own cute way!

He posted, "Happy Birthday to a woman I really look upto. Stay Bold stay beautiful. jus keep creating that stunning story of what is #Nayanthara. Proud of u as always!! Loads of Love & respect to u my Thangameyyy.. #HBDLadySuperStarNayanthara".
Adding to this, he also shared something important about his upcoming film, Thaana Serndha Koottam with Suriya. He said, "#TSKupdate about Teaser coming this evening for #AnbanaFans .#TSKTeaserDate&Time ..@Suriya_offl @anirudhofficial @kegvraja @KeerthyOfficial"

So, we can expect the date and time of TSK's teaser, this evening. Let us wait to find out!

**The tweets are not spell-checked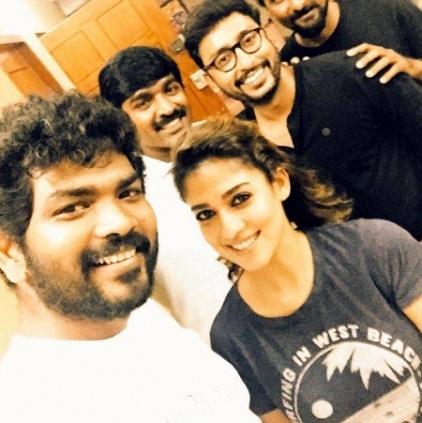 Nayanthara's Aramm, which released today (November 10), is widely being appreciated by the critics. There was a special premiere show that happened yesterday (November 9) night, for the celebrities. Here is the compilation of tweets, made by those celebrities, who caught Aramm in the premiere and appreciated it.

Vignesh Shivn - GopiNainar's #Aramm was gutsy&spellbinding Well done #Nayanthara out of comfort zone but u made it look soo convincing n powerful! #BOLD. Watch #Aramm for its HardHitting, brutally true&genuine content. Congrats @kjr_studios @GhibranOfficial u r the heart of the film. WelDone

RJ Balaji - Watched and liked #Aramm for what it conveys.! Glad #Nayanthara accepted to b a part of a film that raises some important questions. Wish we have more officers like 'Madhivadhani' in real world

Director Arivazhagan - #Aram - Must Watch On Continuing Neglegance & special applauds to @NayantharaU in doing a such a social issue & making it Wide

Music Director Thaman - Jus #mindblown #aram is a #BLOCKBUSTER the best film of the year @NayantharaU in her best performance ever !! Congratulations @tridentarts16 #ravindhran sir for making This biG !! HIT

Director Bramma - Feel the heat, thunder and storm of #Aramm , A must watch socio-political drama by #GopiNainar @kjr_studios @GhibranOfficial Hats off team

Director Ajay Gnanamuthu - #Aramm is way too gutsy, realistic and Hardhitting.. Respect #LadySuperStar #Nayanthara mam, @kjr_studios for making such a film..

Director Shanmugam Muthusamy - அறம் ...!! தமிழ் சினிமாவின் "பீப்லி லைவ்"
நமக்கான சினிமா மக்களுக்கான சினிமா..!! #கோபிநயினார் @NayantharaU

Dhananjayan Govind - #Aramm is an outstanding film, a must watch for it's theme, performances, presentation & message. Loved every moment. Kudos Dir.GopiNayanar Lady Superstar #Nayanthara @GhibranOfficial & entire team. Everyone must watch in theatres. Certainly a Pride of Tamil Cinema

Escape Artists P.Madan - #Aramm - a GEM - One of the Best in recent years. Take a Bow. Don't miss and pls watch in Theater with family. Wishes to the TEAM #Nayanthara #GopiNainar @kjr_studios @omdop @GhibranOfficial @PeterHeinOffl @AntonyLRuben @DoneChannel1

*tweets are not spell-checked