After receiving positive acclaim for his new makeover in director Bala's Naachiyaar, G.V. Prakash has now revealed that he has sung an interesting number in the musical album of the film, along with Super Singer fame Priyanka, in Isaignani Ilaiyaraaja's musical.

G.V.Prakash tweeted, "An important day in my life ... I have sung a song in maestro #Ilaiyaraaja sirs music ... a beautiful duet ... for #Naachiyaar called #உன்னைவிட்டாயாருமில்ல #Priyanka
"உங்கையும் எங்கையும் சேர்த்து
கைரேகை மாத்துது காத்து " @filmmakerBala"

Unnai Vitta Yaarumilla, a soulful beautiful melody, with the voices of G.V Prakash and Priyanka, in Ilaiyaraaja's music from Naachiyaar, coming on our way!

*tweet is not spell-checked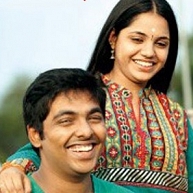 Music composer GV Prakash Kumar met the Chief Minister of Tamil Nadu, Dr J Jayalalithaa and handed her an invitation to his marriage. He and his childhood sweetheart Saindhavi are getting married on 27th June. The composer was accompanied by his father and sister while the parents of Saindhavi were present there too.

The Marriage has been scheduled to happen at 9 am at the Mayor Ramanathan Chettiar Hall. A grand reception will follow at 6 pm in the same venue.