The raw, rustic and the intriguing teaser of director Bala's Naachiyaar released yesterday (Nov 15), which has been well received among the film goers. The critics have also been widely appreciating Jyothika's ruthless and strong looks, and G.V.Prakash's new makeover, which showcases him as a performer this time.

Acclaimed Bollywood filmmaker Anurag Kashyap, who has seen the teaser, took to Twitter to praise G.V.Prakash. He tweeted, "Bala has a new film and it stars GV Prakash.. that kid who did the BGM of Gangs and music for ugly . @gvprakash hello .. what have you been doing little genius.. you look so different and so good.. having done a "Bala" film .. how many new surprises in store man. @gvprakash this is freaking surprising.. I don't even recognize you.. we have to meet"

G.V.Prakash, in turn, thanked Anurag for the praise, through his tweet, "Omg. a praise message from my inspiration ... what more do I need. love u so much anurag sir".

GVP has composed music for Anurag's directorial ventures like Gangs of Wasseypur 1 & 2, and Ugly. Now, receiving appreciations from the same director for his acting is something great for a budding actor like GV.

*tweets are not spell-checked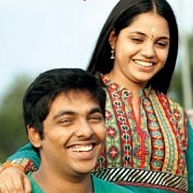 Music composer GV Prakash Kumar met the Chief Minister of Tamil Nadu, Dr J Jayalalithaa and handed her an invitation to his marriage. He and his childhood sweetheart Saindhavi are getting married on 27th June. The composer was accompanied by his father and sister while the parents of Saindhavi were present there too.

The Marriage has been scheduled to happen at 9 am at the Mayor Ramanathan Chettiar Hall. A grand reception will follow at 6 pm in the same venue.