The teaser of Naachiyaar directed by Bala was released some time back. It shows Jyothika in a completely different avatar that we have not seen her in the recent times. She looks to be playing a bold and strict cop in the film.

Of late, we have witnessed some strong, compelling women characters in Tamil cinema. Nayanthara's role in Aramm is one classic example.

VJ Divya Dharshini, who is delighted with this latest development in Tamil cinema took to her Twitter space to share her thoughts. Her tweet reads as follows, "One side #Nayanthara with #Aramm n this side Jyo Mam with #NaachiyaarTeaser n I'm feeling so proud I know these women who is working so hard n changing the wind direction 😘😘😘 GoGirls."

*Tweet is not spell-checked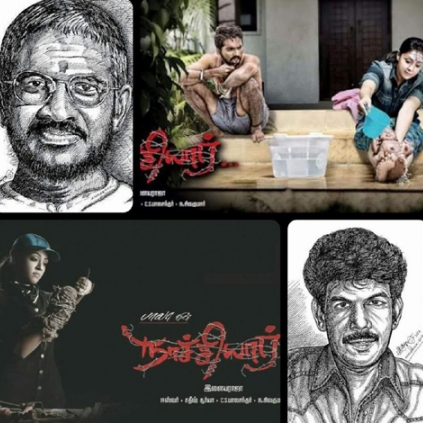 Actress Jyothika, GV Prakash and director Bala's Naachiyaar teaser has just released today (November 15, 2017). The teaser seems to carry forward Bala's raw style of filmmaking.

Like in all of his other films, this one too, from the looks of the 52-second teaser, seems to be a raw and dark dramatic thriller. Jyothika's character looks to be that of a cut-right and strict police officer, whereas GV Prakash's local getup suits him well and makes it look very different from his usual film looks. GV Prakash seems to be an innocent character in the film, who has a love interest and gets hitched into trouble.
The scene where he lifts his arms look natural and gives us the feeling that he has put in a lot of hard work for the character. Jyothika as the strict cop interests the watcher and Ilayaraaja's background score follows an eerie pattern that suits the teaser style.

Bala's style has been kept with right from the start and the edit by Sathish Surya and cinematography by Eswar are also decent and quite apt. The highlight of the teaser however, is Jyothika's finishing dialogue which has the swear word, 'The****ya Payaluga!'. It has a bang and leaves the watcher astonished. Looks like we are in for a bold and raw attempt by director Bala.