Nayanthara's latest flick Aramm, directed by Gopi Nainar, is off to a good start thanks to highly positive reviews from critics, and word of mouth publicity from the public.

As per the analysis made by Behindwoods Box Office wing, this Nayanthara starrer has approximately collected over Rs 1.08 crore in its first three days (November 10 to November 12). The film has got a good opening, holding 192 shows, on its opening weekend.

Collecting more than Rs 1 crore in its opening weekend at the Chennai box office is a great feat and Aramm has achieved it.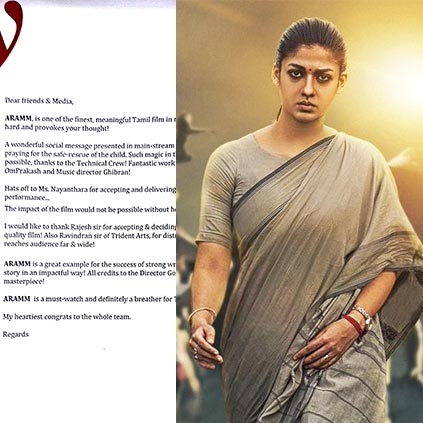 Director Vijay is the latest to applaud Nayanthara's Aramm. He issued a detailed statement about the film:

"ARAMM, is one of the finest, meaningful Tamil film in recent times! It hits you hard and provokes your thought! A wonderful social message presented in a main-stream cinema! I was, in fact, praying for the safe-rescue of the child. Such magic in the movie was made possible, thanks to the Technical Crew! Fantastic work by cinematographer OmPrakash and Music director Ghibran!

Hats off to Ms Nayanthara for accepting and delivering a spectacular performance... The impact of the film would not be possible without her, in all aspects! I would like to thank Rajesh sir for accepting & deciding to produce such a quality film! Also Ravindran sir of Trident Arts, for distributing & ensuring it reaches the audience far & wide!

ARAMM is a great example for the success of strong writing and execution of a story in an impactful way! All credits to the Director Gopi Sir, for creating a masterpiece!

ARAMM is a must-watch and definitely a breather for Tamil Cinema! My heartiest congrats to the whole team. Regards" - Director Vijay