Tamil Film Producer Council's strike against QUBE and theatre owners, which started from March 1, this year, has finally been called off. The decision was taken after a meeting with the ministers from Tamil Nadu government, Kadambur Raju and K.C.Veeramani. Theatre Exhibitors Association, distributors, FEFSI, members also took part in this discussion meet, that happened today morning, (April 17) from 11.30 AM.

Vishal met the press after the meeting and said, "Firstly, a very big thanks to our honourable Tamil Nadu Chief Minister, for the fullest co-operation. Tamil Nadu government has ordered all the theatres to go fully transparent from June 1st, as we requested. The formal Government order will be passed to the theatres soon. Ticket rates will become flexible going forward, depending on the scale of the film. Each film's ticket price will be decided, as per the film's value and scale.

Online ticket charges has been a big burden for the public, and we (TFPC) has decided to start a new ticketing website, where a maximum of just 4 rupees will be charged for online booking. Mastering will also be done at TFPC itself. QUBE's E-cinema rates have come down by 50 percent. There has been a flat reduction in the VPF rates. Earlier, producers used to pay 9000 as VPF for E-cinema, but now, it is enough if they pay 5000. Also, for the full run, the rental rates has come down from 22000 to 10000. There will be another meeting to decide the VPF rates for d-cinema projectors, and that will happen very soon.

On the resuming of film shootings, and release dates of new films, the decision will be taken tomorrow morning, and it will be officially announced.

Once again, our heartfelt thanks to Tamil Nadu Government and the ministers, for sitting with us, since this morning. They patiently listened to all our queries and helped us in arriving at the solutions."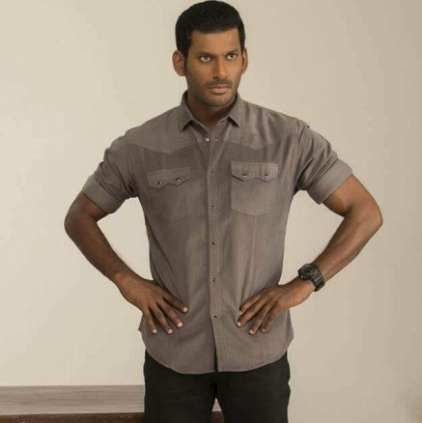 Debutant P.S.Mithran's Irumbu Thirai has been well received by the audience, for its relatable content. The film's actor Vishal has now taken to Twitter to thank the audience for their support.

He tweeted, "#digitalindia #aadharcard #IrumbuThirai #abhimanyudu yes once again I thnk the audience for accepting and appreciating the film.wont think twice to bring the social issues out in celluloid. ovewhelmed by the response. Your Acct is hacked.😬 Tel rel date announcement Tom."

As said in the tweet, Vishal will be announcing the release date of Telugu dubbed version (Abhimanyudu) of Irumbu Thirai tomorrow.

*tweet is not spell-checked