An unprecedented shutdown in the Tamil film industry finally came to an end yesterday, April 17. Following this announcement, which would've brought a huge sigh of relief to pretty much everybody in the film fraternity - as well as many businesses based on films - the TFPC released a press statement a short while ago.

Roughly translated into English, it read:

"The producers' council, theatre owners association, and QUBE along with other digital service providers got together for a trilateral negotiation. Since there was a consensus arrived at during the meeting, there will be an urgent meeting on 18 April at 5.30 PM to dicuss and decide on matter pertaining to this issue, for the good of the film industry.

The meeting will be held at the Film Chamber, and we ask for all producers to attend the meeting without fail."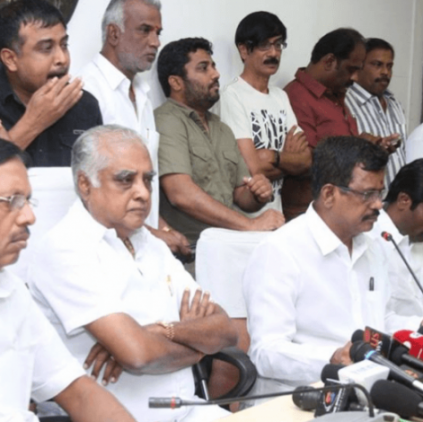 An urgent press release from the Tamil Film Producers Council has just come, and here is what it says, roughly translated from Tamil:

"For the past month, the Tamil, Telugu, Malayalam and Kannada Film Producers Councils had decided not to release any films from March 1, for the sake of the industry, as a form of protest against the digital service providers.

In this situation, on March 5 (today), there was a meeting held in Hyderabad where the digital service providers have refused to accept the terms put forth on behalf of the Joint Action Committee.

Since consensus could not be reached, and even though the theatre owners of Tamil Nadu are not extending support to the producers, we have decided that the release shutdown will continue until the righteous demands of producers are met."
TFPC's important request to producers
People looking for online information on Tamil Film Producers council will find this news story useful.