Popular music composer Justin Prabhakaran, who has some hit numbers like 'Adiye Azhage', 'Pesayum Esaya', 'Onakkaga Poranthene' to his credit, is all set to make his debut in Tollywood. The talented composer has signed his first direct Telugu film, that will have Vijay Deverakonda in the lead role.

Talking about the film, Justin says, "I have signed my debut Telugu film starring Vijay Deverakonda in Bharat Kamma's direction. I am sure that this movie will be very important and special in my career. My friendship with Bharat Kamma is beyond profession, and that has only fetched me this film.We have earlier worked in 'Maroprapancham', a short film that was well received by the audience. The title of the film will be announced soon. The popularity of Vijay Deverakonda among the youth gives my debut film, a great platform, and a start.

As far as Tamil projects are concerned, I have Naadodigal 2, an untitled film with SJ Suryah in the lead, Atharvaa's Othaiku Otha in the pipeline. I have already done a Malayalam film and it had a great response. Now as I step into Telugu, my aim is to work in many languages as I strongly believe that music has no linguistic barriers, and music directors too, have no barriers"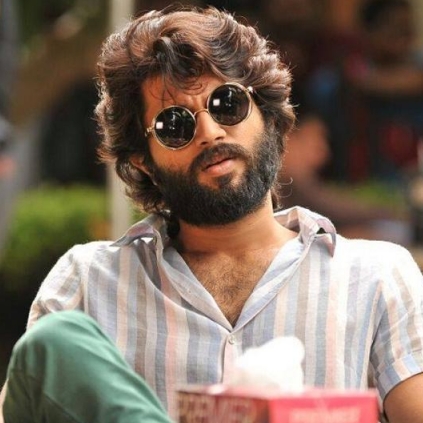 'அர்ஜுன் ரெட்டி' படத்தின் மூலம் மிகப்பெரிய ரசிகர் பட்டாளத்தைப் பெற்ற நடிகர் விஜய் தேவரகொண்டா, தற்போது நேரடி தமிழ்ப்படம் ஒன்றில் நடிக்கவிருக்கிறார்.
'நோட்டா' என பெயரிடப்பட்டுள்ள இப்படத்தை 'அரிமாநம்பி', 'இருமுகன்' புகழ் ஆனந்த் சங்கர் இயக்க, படத்தின் இசையமைப்பாளராக சாம்.சி.எஸ் ஒப்பந்தமாகியுள்ளார்.
'நோட்டா' படத்தின் வழியாக தமிழ் சினிமாவில் என்ட்ரி கொடுக்கும் விஜய் தேவரகொண்டா, இப்படத்தில் அரசியல்வாதியாக நடிக்கவிருப்பதாக கூறப்படுகிறது.
Justin Prabhakaran to make his Telugu debut with Vijay Deverakonda's next
People looking for online information on Justin prabhakaran, Vijay Deverakonda will find this news story useful.