'I AM SO HUMBLED TO BE ESSAYING SUCH A BEAUTIFULLY WRITTEN FEMALE CHARACTER IN MAJID MAJIDI'S FILM'
Home > Tamil Movies
> Tamil Cinema News
By

Behindwoods News Bureau

|

Mar 12, 2018
Actress Malavika Mohanan, who bagged one of the most coveted roles of recent times, talks about working with the Iranian legend Majid Majidi and her love for his cinematic portrayal of women and children

Known for some of the most emotionally evocative cinematic experiences, the legendary Iranian director Majid Majidi is all set to release his first India-centric film, Beyond the Clouds, globally on April 20. Produced by Zee Studios and Namah Pictures, the film marks the international debut of the lead pair - Ishaan Khattar and Malavika Mohanan.

A self-confessed Majidi fan and one of this year's most sought-after female debutants in Bollywood, Malavika was elated when she was cast to play the role of Tara for Beyond The Clouds. "Mr Majidi is a genius when it comes to storytelling and capturing the nuances of human emotions. There may be a handful of makers around the world, who showcase women and children as beautifully as he does. His female characters all have one common thread - they are all really layered yet strong women whose strength lies in the awareness of their vulnerability. The combination strength with that vulnerability is what makes these characters so special," says Malavika as she talks about working with the genius himself.

Malavika's character Tara plays big sister to debutant Ishaan Khattar's character Amir. When asked about Mr Majidi's vision for their on-screen equation, she says, "Mr Majidi was very clear about the fact that Tara was the wind beneath Amir's wings - his guiding force as it were. She probably was the only thing that made sense to him amidst all of the world's nonsense. I'm so humbled to be essaying such a beautifully written female character in Majid Majidi's film. It's a dream come true in every way."
MAJID MAJIDI SETS THE TONE FOR MEANINGFUL INDO-IRANIAN RELATIONSHIPS WITH BEYOND THE CLOUDS
Home > Tamil Movies
> Tamil Cinema News
By

Behindwoods News Bureau

|

Feb 21, 2018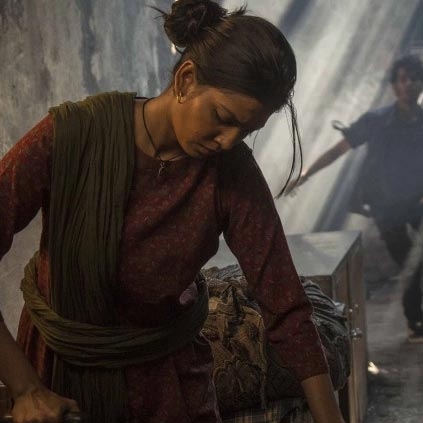 Cinema truly has no language - it connects people together at a human level, regardless of where they come from or where the story is set. And Iranian auteur Majid Majidi's next film Beyond The Clouds has set the tone for this already before its release.

At Iranian President Hassan Rouhani's recent visit to India - his first since his election - where he met Indian PM Narendra Modi in New Delhi, they revealed their common stance in using culture and exchange of information and experience to confront terrorism and extremism. The conversation on the cinematic co-operation as part of the cultural exchange between the two countries found a rather prominent space.

They spoke about the cultural union of the brilliant minds from both countries through the medium of meaningful cinema. In light of that thought - Beyond The Clouds, Majid Majidi's very first cinematic Indian sojourn became a centrepiece, an example, they discussed to highlight the power of cross-cultural and cross-border artistic union. Rouhani also spoke about how artists and makers from film and television from both countries should consider more collaborations like this to strengthen a prominent and long-standing cultural relationship between the two countries.

Produced by Zee Studios and Namah Pictures, Beyond the Clouds is planned to hit the screens on April 20.
I am so humbled to be essaying such a beautifully written female character in Majid Majidi's film, says Malavika
People looking for online information on Beyond the clouds, Ishaan Khattar, Majid Majidi, Malavika Mohanan will find this news story useful.