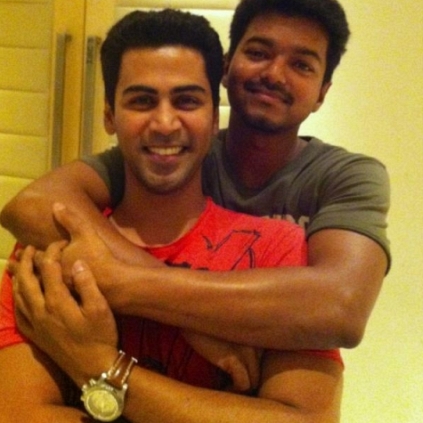 Popular singer Krish had engaged in a live Twitter chat with his followers yesterday evening, where he answered most of the questions. Here is a compilation of tweets from that chat.

1. What would best describe you? A singer who can act, or an actor who can sing?
I believe all singers can act brother

2. About Harris sir.
My God father

3. Yuvan or Harris?
No comparison with My Good friend & God father... Both r class

4. Epo hero aah screen la paakalam sir?
Sattiyamaa theriyala sir

5. How is your work going bro?
Very bad for the past 3 years sir.... Hope Sani peyarchi will answer

6. Which one song is unforgettable?
Siru Siru uravugal from unnale unnale

7. Who is ur fav Thala or Thalapathi.?
Sir I'm a huge Thalabathi fan

8. Yours and Suchi combination songs always ultimate.
Thanks to all the music directors who believed in us.... she is a great talent

9. Hi bro. Few words about Thala Ajith??
U can admire Annan anytime of the day no matter what ur mood is... very motivational person

10. AR or Ilayaraja?
No answer brother... We have no rights to comment on LEGENDS

11. Ur role model?
Elvis Presley / Kamal Sir

12. Few words about Allu Arjun
Superb and Funny person to hangout with..... Haven't spoken to him in a long time.... my fav dancer

13. When will you act with your wife Sangeetha? We are waiting..!
I don't see that happening

14. One word about Yuvan ji.
Yuvan means Humble

15. When will you act with Thalapathy
Anna call panna udane

16. Will you make your daughter act in films now..?
No sir Not now....

*tweets are not spell-checked
The Forbes India Celebrity 100 List has been released by the famous magazine, and this year, it features several Kollywood celebrities, although its top three names have remained constant. Salman Khan, for the second successive year, is at No 1.

The celebrities from Tamil cinema in the list are:

1. AR Rahman: Rs 57.63 Crore (12th place)

2. Suriya: Rs 34 Crore (25th place)

3. Ajith Kumar: Rs 31.75 Crore (27th place)

4. Vijay: Rs 29 Crore (31st place)

5. Jayam Ravi: Rs 18 Crore (39th place)

6. Vijay Sethupathi: Rs 14.08 Crore (54th place)

7. Dhanush: Rs 11.25 Crore (70th place)