Cameo Films - Press Release regarding Imaikkaa Nodigal's delay:

"We answer your questions...

Certain movies set the bells ringing right from the moment they are announced. One such venture is our third production — Imaikkaa Nodigal. Right from its announcement in May of 2016 to the latest second single launch, we have got all your attention, love and fascination and we cannot thank you enough for it.

When we started Imaikkaa Nodigal, we didn't know it would get as big as it has now. Every step of the way, this pet project of ours has only grown bigger. From Nayanthara to Anurag Kashyap to Hiphop Tamizha to Vijay Sethupathi doing a Cameo, every addition to our initial cast and crew has cemented the film's position in the market.

Friends from the industry, fans and the media have been asking as off la., as to why we haven't released the film yet.We greatly appreciate the concern and this just goes on to show how attentive everybody is to our every move. This press release is to address such concerns. Here are just a few of the many reasons as to why we have to hold onto our horses with regards to the release of Imaikkaa Nodigal.

1. Imaikkaa Nodigal, being a thriller requires state of the art technical aspects. Right from the best equipment to shoot the film with; to the best VFX team to work on the Computer Graphics; we have had to wait, pursue and get what we want to be able to deliver the vision we have in mind. Over 75% of the film was shot in live locations across Chennai and Bangalore over the course of 90 days. These locations required great manpower for crowd control, add on to this hierarchical permission procedures; ever; day's shoot was a plateful. All this we did with just one thing in mind. The end' result of our dream film looking conceptually, logically, technically elevated from what it was on paper.

2. The star cast is replete with names that have the busiest schedules. If only every producer and every star could magically fit and match schedules, then making movies would be a profitable business every single time. Unfortunately, none has discovered such magic.

3. We prefer quality over time. The director is passionate about perfection to every detail. This is something that is requisite for a project of this scale. Perfection comes at the cost of time. And the time comes at the cost of money. But now that we sit at the edit table or at the final sound mixing, we see the outcome of all those days of hard work and attention to detail. The film looks glorious and you will witness it when it comes out on screen.

4. With a substantial increase in the regular strikes, from the Produces Council Strike to the FEFSI strike to the theatre owners strike; we have had to wait, wait some more and keep polishing our hooves. Our hands are tied up with no other option but to wait for an amicable solution to arrive at every strike.

5. Overlooking all the technical reasons, time reasons and schedule reasons, we were one among many who had to spend equal amounts of time waiting at the Banks and ATMs during demonetisation; to the time we spent making the film.
6. While technical and man-made reasons were aplenty, we also had to face Nature's wrath alongside many of you. With Vardah and Floods, we had to safeguard our film's hard disks more than our lives. We did. In spite of all the above hurdles, everything that has to be done is being done. We are working on the final touches on CG, final stages of sound mixing and actively doing business talks. More importantly, we are looking to host a grand trailer and audio launch event bf the second week of May and are looking at a massive mid-summer release as per Producer's counsel release slots. We guarantee you that the film mill he worth all your wait. We thank those of you who have been patiently waiting for the release of the film, for this, show the trust and interest you have in us.

On behalf of the cast, crew and Producer of Imaikkaa Nodigal

CJ Jayakumar
Producer Cameo Films"

*Statement not spell-checked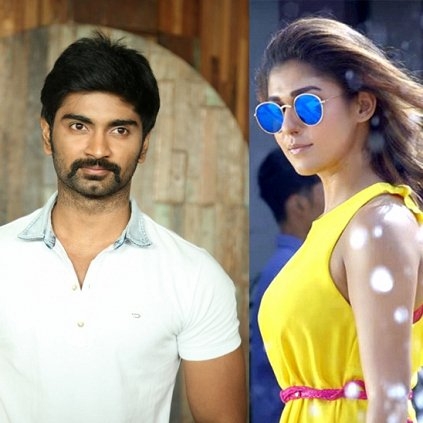 Director Ajay Gnanamuthu's next film is Imaikka Nodigal starring Nayanthara, Atharvaa, Anurag Kashyap and Raashi Khanna in important roles. It has music by Hiphop Tamizha and a single titled Kadhalikathey had released sometime ago.

The latest is that, the second single titled 'Vilambara Idaiveli' will be released tomorrow (March 5) at 5pm. Hiphop Tamizha's Twitter post read, "Second single #VilambaraIdaiveli from #ImaikkaaNodigal releasing tomorrow at 5 PM".

*Twitter post is not spell checked