Imaikka Nodigal starring Nayanthara, Atharva, Rashi Kanna and Anurag Kashyap is directed by Ajay Gnanamuthu. As reported earlier Vijay Sethupathy has been roped in to play a very important cameo role to pair opposite Nayanthara in the movie.

Vijay Sethupathy will start shooting his portions from today December 2 and the Imaikka Nodigal team is said to be very excited to have the versatile actor on board. The film is slated for a January 2018 release.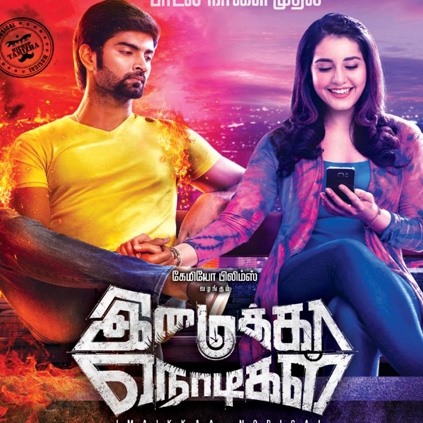 After the super hit success of Meesaya Murukku, Hip Hop Tamizha is back with his next! Kadhalikathey is the first single from one of the most anticipated films of the year, Imaikka Nodigal! The film brings together an ensemble cast including Nayanthara, Atharvaa, Anurag Kashyap, Rashi Khanna and much more. Demonte Colony fame Ajay Gnanamuthu helms this film.

Slipping into the review of the first single, Kathalikathey is sung by Hip Hop Tamizha Adhi along with Kaushik Krish, who has previously rendered Hip Hop Tamizha's hit songs, Kannala Kannala and Enna Nadanthalum. This is a folk song with enthusiastic beats and synth loaded up! Again, Hip Hip Tamizha tries to grab the attention of the masses with a swift folk number for which you can shake your legs! Adhi and Kaushik put up a good show with the vocals, and the use of the Nadaswaram and the synths are impressive. The lyrics by Hip Hop Tamizha are catchy.

Overall, the song has the punch, but it lacks the convincing factor and fails to captivate regarding the tune. Though, since the genre is intriguing, it may work for a certain set of listeners!