The sweat and blood exerted for a purpose return as a fruit of joy with success. So happens to be the scenario with the joyful team of Theeran Adhigaaram Ondru. An incessant hard work for months without a break that demanded physical and mental strain and finally, they have a sigh of relief with tremendous response. The entire team is wholly exhilarated over the outstanding response from film critics and audience.

While the major success of drama happens with the compelling characterization of a protagonist, so should be the antagonist. Abhimanyu Singh, who was seen as a dreaded baddie with gruesome shades is having a childlike moment for the kind of response people have given towards the film.

"When director Vinoth narrated me the story, what took me by fascination was the fact Theeran is based on the true story. A sense of reality sprang up in my mind, and it was completely amazing. The history and past that my characterization carries are really amazing," says Abhimanyu Singh.

Speaking about Karthi, Abhimanyu says, "Karthi is such a wonderful human being. He is always focussed towards improvisations and keeps working on it. He wants to the entire scenario with his best efforts. I found him so much disciplined, hardworking and at the same time very easy going."

Shedding lights on filmmaker Vinoth, he says, "He loves his actors so much and is always seen with polite conversations. Vinoth always keeps looking out for betterment, and he keeps experimenting with what's best. So much sensibility and genuine nature are his greatest attraction."

The actor recollects the some of his tough moments from shooting spot saying, "We had to shoot through the entire day under extreme climatic conditions. By the end of the day, as I take a bath, I would see that it takes 15 minutes to wash my face to see the dark waters. Such was the amount of dust. But now everything has encashed us with success and I am very happy about it."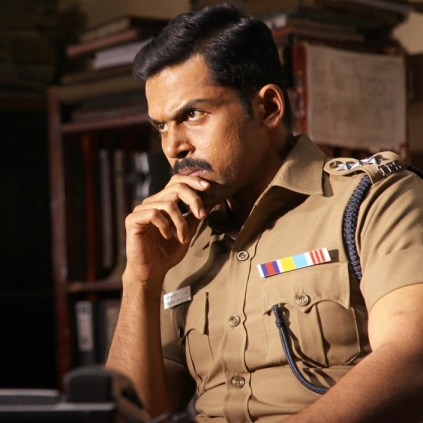 Karthi's Theeran Adhigaram Ondru, has just released a few days ago and it has been receiving positive reviews upon its release. The film directed by H Vinoth is produced by Dream Warrior Pictures. A fan, had addressed producer of the film SR Prabhu, asking him what he could do about not being able to watch the film due to lack of subtitles in his region.

To this, SR Prabhu diplomatically replied in a very smart way. He said, "Pls wait for 25days if possible #amazonprimevideo . Else find a good quality pirated copy which are plenty online and donate 10$ to someone who needs it badly, in the name of #TheeranAdhigaaramOndru ! I will be happy & trust me u will also be happy". A very genuine, thoughtful and humble reply by SR Prabhu. Theeran has Rakul Preet Singh playing the female lead.

*Twitter post is not spell checked