In recent interview, actor Vishal spoke in the capacity of the head of the Tamil Film Producers Council, and warned of severe action against any loan shark who may harass producers in the future, as well as any MLA or minister who supports them.

Fisheries Minister D Jayakumar has completely opposed the statements of Vishal. He has replied to them in an pressmeet, stating, "The accusations by Vishal are entirely wrong and baseless. He should have definitely refrained from making such comments."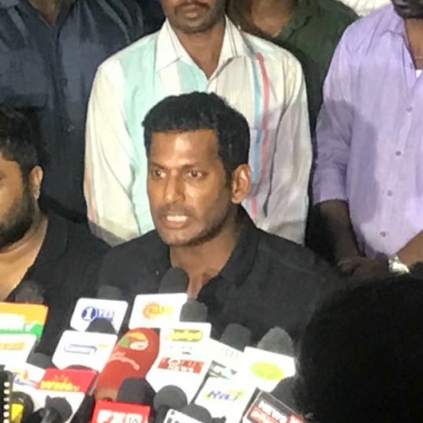 Vishal's furious speech against financier Anbu Cheziyan at a press meet in Madurai:

"Usury is a huge issue, all of us know it has affected a lot of common people, and because of that, a leading producer has now committed suicide.

Company Productions is one of the leading film banners in the industry. But not many know how hard Sasi and his team are working to release his film Kodiveeran. Ashok Kumar has clearly stated all his issues in his suicide note, and he was forced to take that decision.

I am not telling this as the President of the Producer's council but as a producer, a producer who is paying interest on interest to a loan shark. I am confidently saying this would be the last death because of these money lenders.

Almost all producers are making films after getting a loan from these usurers. Just because we did not pay one month's interest, it doesn't mean we will abscond without repaying the debt.

Going forward, if I see anyone charging excessive interest rates from a producer or harassing a producer, I will see to that these usurers get punished severely. We will fight legally and seek justice to Ashok Kumar's death.

Not just Ashok Kumar, there are many producers who are going through similar issues. I will reveal few names from the list, Gautham Menon is there, myself (Vishal), Parthiban and many producers have been a victim to Anbu Cheziyan.

We have had enough; I will not allow anyone to dominate us anymore. Whoever tries to save him (Anbu Cheziyan), be it any MLA, any Minister, whoever supports him, we will fight them too. We will do anything and everything to protect the producers."