WATCH | WOMAN THROWS GARBAGE ON ROAD; BIKER GIVES HER A TASTE OF HER OWN MEDICINE
Home >
News Shots >
World
By

Behindwoods News Bureau

|

Sep 24, 2018 02:31 PM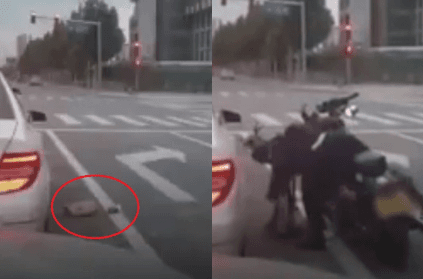 Activists and environmentalists have time and again spoke about the need to keep your surroundings clean. Despite multiple campaigns and initiatives, some people lack the common sense of not to throw garbage on roads.

Plastic bottles, chips packets, cigarettes are common sights on Indian roads. In a similar incident in Beijing, a passenger, travelling in a car, decided to dump her garbage on the road. But what happened next is called karma!

In a video shared by China Global Television Network, a woman can be seen throwing a garbage bag through her car window. A biker, who pulls up beside the woman, picks up the garbage bag and throws it back inside her car.

Giving the woman a taste of her own medicine, the biker casually rides away as the woman can be seen getting out of her car, supposedly furious by the act.
A female motorcyclist picked up a garbage bag that thrown out by a driver in #Beijing and threw it back inside the vehicle pic.twitter.com/xbxPcQkQJH

— CGTN (@CGTNOfficial) September 23, 2018
Twitterati couldn't help but praise the woman for her act.
Environment friendly ,keep the counties clean 👍

— catherine mwaniki (@catheri56045163) September 23, 2018
Excellent response,bravo !!!

— Alexandros Pappas (@Alexandrosfly) September 23, 2018
Well done motorcyclist! Those who throw garbages on streets, they themselves are actually garbages throw them too in bns.

— Rohullah Azimy (@AzimyRohullah) September 24, 2018
Littering has always been a problem on Indian roads. Is this then the only solution to teach litterbugs a lesson? Tell us in the comments below
Tags :
#BIKERS #GARBAGE #CLEANLINESS #CHINA
next