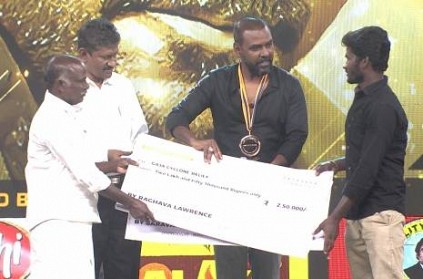 Cyclone Gaja wreaked havoc in the delta regions of Tamil Nadu last month and its after-effects are still yet to be regained from. Desperately wanting to help the affected families, Behindwoods found a way possible during the Special and Iconic edition of the 6th Behindwoods Gold Medals ceremony that was conducted on December 16, 2018, Sunday at the Chennai Trade Centre.
Among the many awards given to celebrities for their noteworthy work in the Movie industry, social awards too were given to recognize people for their commitment towards the society. Mr R Nallakannu - CPI leader, Mr U Sagayam IAS, Mr Nakkheran Gopal, Mr Bhagavan - Teacher and Ms Ruba Devi, Football Referee were prominent Inspiring Icons in their respective fields who were awarded the Icon of Inspiration award. Behindwoods also presented awards to honour those who worked for the society within the cinema industry. Actor-Director Raghava Lawrence was awarded the Icon of Social Responsibility on Cinema.
Raghava Lawrence was presented with the award by Sagayam IAS. Expressing his delight over the award, the actor said, "I have been a choreographer, producer, director, and a hero in cinema. However, apart from movies, I am very glad that this award was presented to the real-life hero in me. My mother often tells me that it is important to be a hero in real life than in movies. I have tried it many times before. By getting this award, I feel like doing even more good deeds."
Keeping his word, Raghava Lawrence went ahead and started a fundraiser for the rehabilitation of those affected by Cyclone Gaja on the stage. As the actor undertook the noble cause on the stage of Behindwoods Gold Medals, we donated a seed amount of Rs 2.5 lakh. Along with Behindwoods, Raghava Lawrence and our events title sponsor Saravana Selvarathnam added Rs 2.5 lakh each, amounting to a total of Rs 7.5 lakh.
The money was donated immediately on stage to Paramasivam and Prathap from the village of Seranallur and Koodakudi. A grateful Paramsivam said, "Due to Cyclone Gaja, houses in our villages were ravaged. On that basis, we came here seeking help. There are many more families which have lost their livelihoods in villages next to ours. I request you all to help them as well."
The damages caused by the cyclone was vast and to make a comeback, Tamil Nadu needs a combined effort from all. Adding to that thought, U Sagayam IAS stated, "The Chola lands fed the entire Tamil Nadu. We saw the destruction caused by Cyclone Gaja in the areas of Tanjore, Tiruvarur, Nagapattinam and Pudukottai. Upon hearing the damage caused, we immediately sent hundreds of youths there on behalf our initiation, 'Makkal Padhai'. The youngsters performed excellent humanitarian works there. It pained me to hear that those who once fed the entire country were in hunger. Hundred and thousands of the youth took part in the rehabilitation work there. We are still working to bring permanent rehabilitation there. A part of the work we did is now being contributed by Raghava Lawrence - a man with a huge heart. He is an artist who loves society. I am sure the money he has contributed will help the people affected."
It is time for us all to join hands together to help the land that once fed us all. Followers of Behindwoods who wish to help those affected by Cyclone Gaja can do your part by donating online on our website.
next