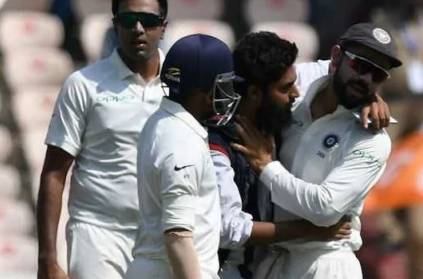 The second Test match between India and West Indies held at Hyderabad on Friday was breached by an over-enthusiastic fan.
A similar incident took place during the opening match held at Rajkot when the match was breached by two fans who tried to take selfies with the captain, Virat Kohli. On Friday, an over-enthusiastic fan ran into the grounds at Hyderabad and took a selfie with Kohli. The fan even tried kissing Kohli but was luckily escorted by the security.
The incident happened when Kohli was fielding at mid-wicket with 15 overs on Day 1. Kohli was not pleased with the incident and tried to maintain his distance. Due to the delay caused by the fan, the umpires had to call for the drinks break.
next