HEARTWARMING: THIS PHOTO FROM ASIAN GAMES IS WINNING HEARTS IN INDIA AND PAKISTAN
Home >
News Shots >
Inspiring
By

Behindwoods News Bureau

|

Aug 31, 2018 05:01 PM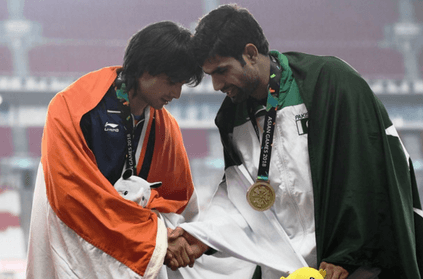 "A picture is worth a thousand words" What better way to narrate a story than through a picture! A photograph, taken during the ongoing Asian Games in Indonesia is doing exactly the same.

Indian star Neeraj Chopra's gold in javelin throw was historic. While the nation was celebrating the historic win, internet users were equally impressed with a picture from the medal ceremony. A viral image of Neeraj shaking hands with Pakistan's Arshad Nadeem, who won a bronze medal in the same event. While sights like these are common, it became a big deal, given the nature of relationship between the two countries.

Tennis star Sania Mirza shared the image on Twitter, congratulating Neeraj on the win. She went on to say that 'sport is the best education you can provide your child with'.
Why I always say SPORT is the best 'education'you can provide your child with! Teaches you sportsmanship,equality ,respect and most importantly humanity! If only some people can learn this from our champion athletes too!! Well done to @Neeraj_chopra1 on the 🥇for 🇮🇳 👏🏽 https://t.co/YhyaRfbI9u

— Sania Mirza (@MirzaSania) August 28, 2018
Touched by the gesture, people on both sides of the border decided to commend the two athletes.
We are brothers....ind❤pak

— Muhammad Munib (@munib_moni) August 28, 2018
We should show warm gestures to each other to build friendly atmosphere in #IndoPak so that hatred can find place somewhere else

— Shahjhan Malik (@shahjhan_malikk) August 28, 2018
Such a nice gesture from both afterall we r nbrs and ex country mate as well🙂. Hope for better n brighter relation between both Countries

— QamarSKhan (@QamarSKhan2) August 28, 2018
Neeraj Chopra not only won a gold medal at Asian Games but also won hearts with his friendly sporting gesture towards Pakistan Arshad Nadeem
who settled for bronze in the same event
SPORT TEACHES MANY QUALITIES ,BEING HUMBLE STANDS A TOP
SPORTS DONT MAKE CHARACTER :IT REVEALS IT pic.twitter.com/tatP1RjfVp

— ashraf Khatana (@khatana_ashraf) August 28, 2018
Pakistan pacer Hassan Ali also took to the microblogging platform to laud the gesture by the two athletes.
sportsmanship,equality ,respect and most importantly humanity well done 👍🏻 both of you for lovely msg sports always best https://t.co/SLAZLf6CbS

— Hassan Ali (@RealHa55an) August 28, 2018
Tags :
#PAKISTAN #INDIA #ASIAN GAMES #NEERAJ CHOPRA
next