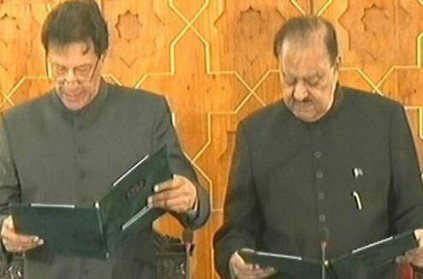 Imran Khan took oath as Pakistan's 22nd Prime Minister at Islamabad on Saturday. He has officially taken control of the reigns of the country after his party won the elections on July 25.
The swearing-in ceremony follows the election that took place in the lower house of the parliament of Pakistan on Friday. Khan defeated his rival, Pakistan Muslim League-Nawaz chief Shahbaz Sharif. While Khan secured 176 votes, Sharif got only 96 votes.

After decades of rotating power between Pakistan Muslim League-Nawaz (PML-N) and the Pakistan Peoples Party (PPP), a new party, the Pakistan Tehreek-e-Insaf has been put into power. Khan had promised to come down hard on corruption and had stated, "Those people who have looted the country, I promise that they will be brought to justice," during campaigning.
Imran Khan took oath at the President's house. He was seen in a traditional black sherwani and even teared up a little while taking the oath. Khan's third wife Bushra Maneka was also present at the ceremony. Former Indian cricketer Navjot Singh Siddhu was present as a special guest.
next