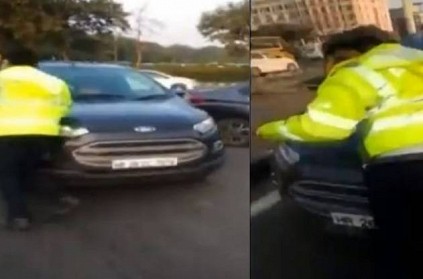 In a bizarre incident in Gurgaon, a man attempted to drive away his car with a police officer on the bonnet. The incident reportedly took place on Wednesday, the video of which has been circulating on social media.
The accused was reportedly caught by the police for driving on the wrong side. From the video, the officer can be seen trying to stop him from driving away and stands in front of the car. However, the accused still drives away dragging the officer on the bonnet of his car.
The man drives away for a short distance and eventually comes to a stop. According to reports, the man was arrested and his car seized.
#WATCH: Man stopped by traffic police for driving on the wrong side near Signature Tower Chowk in Gurugram, dragged traffic personnel on the bonnet of his car when the personnel tried to stop him. He was later arrested & the car was also seized. #Haryana (19.12.18) pic.twitter.com/BbyN79ysIW

— ANI (@ANI) December 20, 2018
next