INSPIRED BY GHAJINI: FATHER TATTOOS HIS NUMBER ON SON'S ARM
Home >
News Shots >
India
By

Behindwoods News Bureau

|

Aug 30, 2018 04:17 PM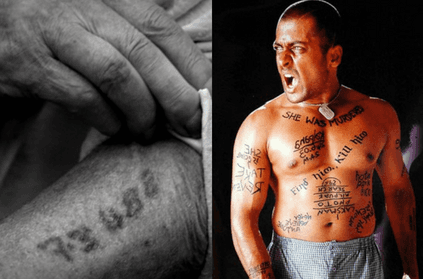 Memory loss can be daunting. The prospect of forgetting daily tasks and necessities can scare people out of their wits. It was a similar case for a man in Mumbai. Only this time, the problem was not with him, but his son.

According to a report in the Mid-Day, Shiva Malayam suffers from short-term memory loss. His father, Venkana has narrated a recent incident that occurred due to this condition. "My son is studying in a school for the differently-abled. On Tuesday, he got off the school van and ran away. Later, I got a call from GTBN station that he has been found," said Venkana

So, how do you think the boy was reunited with his father?

Very simple. The boy was found with his father's phone number tattooed on his arm.

We all have seen AR Muragadoss' Ghajini. In the film, Suriya/Aamir Khan suffers from short-term memory loss due to a head injury. Since he has trouble remembering details, he tattoos them to his body. Looks like this reel-life idea seems to have worked out in real life as well. Venkana revealed how he was inspired by the movie to tattoo his number on his son's arm.

"A friend had seen Ghajini and suggested I do so. Around 5-6 years back, I tattooed my number on his hand," says Venkana. Thanks to director AR Murugadoss and the actors, a father was able to get his son back.
next