Vishwaroopam 2, actor-politician Kamal Haasan's upcoming sequel to his Vishwaroopam, is in the post-production stages. Recent news about the film stated that the star had started dubbing for the film.

When we contacted sources close to the film about these reports, we were informed that the dubbing process had started much earlier than the dates reported by news outlets, and that it was just some correcting, tinkering and fine-tuning that was done recently.

It was also revealed that the post-production processes are on in full swing currently.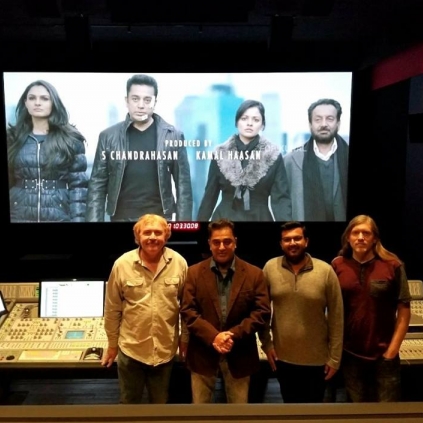 We had recently reported that Kamal Haasan's Vishwaroopam 2 had its final leg shooting at the Officers' Training Academy, Chennai. After which, the legendary actor flew to the USA to work on the sound mixing of the much-delayed project. Now, the Nayakan actor has taken to Twitter to give us an amazing update on the progress of the movie.

He tweeted, "VR 2 looking great sounding great. Thanks to all techies who are making it possible. (From L to R) In picture Marty, I, Kunal and Chris. The screen has my late brother's name as the producer. Would have sent him this pic. first had he been around.", along with a picture of the sound mixing team.

This gives us immense hope that the film may release very soon as the production work is happening on full swing.